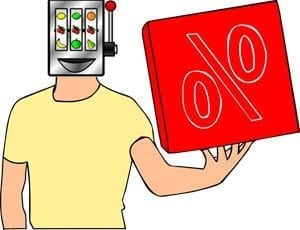 Return to Player or RTP is the term describing the percentage of paybacks players can expect from all of the bets put up on a casino game over a predetermined range of time. RTP applies to video pokers, slots, and all types of casino games with a predetermined house edge.
The house edge is the percentage of bets that casinos can expect to receive. It is also described as the mathematical advantage that a casino has in a particular game over anyone playing the game.
For example, a slot machine has a house advantage of 4.98%. If the total amount of bets equaled $10,000 over the predetermined time period, the house should get $498.00, while players should receive $9502.00 in wins over the same range of time.
Increase Your Odds by Choosing the Right RTP
One of the best ways to improve the odds of winning when playing online casino games is to select the game with the highest RTP. After all, what's the point of playing a game with an RTP of 91% if you can take advantage of one offering 95% as the RTP? For the best odds of getting back some of the money you bet, choose a slot game with an RTP of 97% or higher.
Should You Consider Playing a Single Slot Machine or Lots of Them?
Ideally, it shouldn't matter whether you hop around from one machine to the next or you stay at a single machine for hours. The random number generator gives every spin the same odds of turning into a win or loss no matter how many times you have already played. A lot of players are tempted, though, to move onto a new machine as soon as they have what they consider to be a big win. Unfortunately, this strategy does not increase your odds of winning.
No Two Slots Are the Same
Even though all slot games are designed to deliver random results, the actual RTP percentages vary as do the payouts. The trick is to find one offering as close to 100% as possible. An important point to remember is that online casinos have lower overhead costs, so they can offer some incredible RTPs for players. You just have to look for them.
Finding a Game's RTP
To find out more about the RTP on a particular slot game, be sure to check out its menu, question mark, or help section for each game to see what its return to player stats are. If it isn't listed, you may want to consider playing a different game. Although they are few in number, some casinos do not provide the manufacturer's suggested return to the player. When this scenario occurs, the casinos typically exclude this fact in the game's list of rules.
Are There Any Games Offering a Guaranteed Win?
No casino game offers a guaranteed win. If it did, the online casino would not make any money on it. However, there are quite a few games offering an RTP over 97%, giving players good odds that they will win at least some of their money back.
How to Use an RTP to a Cashable Win
Even though no guarantees exist that you can win 100% of the time, choosing a game with a high RTP gives you better odds. Of course, you have to factor in your wagering requirements if you choose to cash in on a match bonus, meaning that you must have the capital to continue playing if you intend to cash out your winnings.
Another way to look at the problem of choosing the right game to play is to consider how much you would lose on 100 spins. For example, if you made the same bet of $1.00 100 times in a row on a game with an RTP of 97.5%, you can expect to lose $2.50. On the other hand, making the same bet for the same number of spins on a game offering an RTP of 97.9 leads to a lose of only $2.10.
Hedging Your Bet with RTPs
If you want to have better odds at winning, you need to stay away from games involving franchised images, titles, and action. Any slot game with a well-known theme such as a cartoon, movie, or comic strip character is going to have a lower RTP, which means your odds of winning are going to be less than if you selected a game with a generic theme.
Looking into the Future of Return to Player Percentages
Currently, a new trend is appearing in the gambling industry regarding RTPs. Two companies, Amatic and Endorphina, are offering identical RTPs across all of their slot games. This strategy allows players to know what the RTP is without even looking it up because all of the slots by either of these companies has the same RTP of 96%.