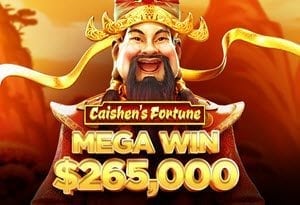 As one of your first stops for the latest news on the best casino games to play, we also like to share enticing tidbits on the biggest payouts tempting players from around the globe. For sure, the payouts are huge and likely to have you drooling in anticipation of winning one of them. In recent weeks, quite a few prizes have been claimed by players at the Casino Bitstarz.
Amatic is well-known for its appealing collection of games offering exciting jackpot, adding to the thrill of playing online adventure slots. Amatic's Book of Aztec's jackpot of $206,551 recently went to Arturo of Venezuela who managed to unearth the prize beneath sand dunes, while another player got his hands on $265,000 while watching the reels of Cai Shen's Fortune line up in perfect game play.
When we say "massive", it's because these jackpots are huge enough to deliver fistfuls of money that can change your life forever. To recount Arturo's success, we have to let you know that he clearly showed his prowess on slots by capturing a generous sum of $480,702 while playing eight exciting games, including Wolf Gold, Book of Fortune, and Diamond Vapor. The payouts are huge, and the challenge of being the one to win beating the game is calling for you now.