Swiss Online Casino – Best 10 Switzerland Online Casinos
Find the Online Casinos Accepting Players from Switzerland right here!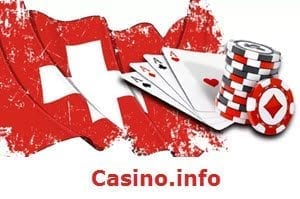 Before the Swiss Gaming Act that took effect in 2019, the Swiss online gambling space was characterized by a lot of uncertainty. Online gambling activity in the region was crippled regulation-wise and there was not much being done to come up with clear-cut laws to let Swiss online casino punters know where they actually stood. Perhaps the biggest reason behind this was the fact that the state was already reaping huge chunks of revenue from the brick and mortar casino industry which apparently, it intends to continue by banning all foreign online casino operators.
Even now that the Swiss Gaming act which bans foreign casino operators is in effect, the online casino market is more or less seeing a continuation of what was already happening. Do you want to know where the online gambling market in Switzerland currently stands, as well as its future? This article elucidates that in detail and also includes a list of the best online casinos for Switzerland online casino punters.
It's now clear than ever that online casinos are the most preferred type of gambling for Swiss players. Our Switzerland-based online casino experts have done thorough research to present you with probably the largest vault of online casinos that accept players from Switzerland. It is an exclusive opportunity for every Swiss player to choose their favorite online casino for wagering real money. To guarantee safe online casino gambling, we have used the following guidelines:
The casinos we provide hold licenses from reputable casino licensing bodies. This goes a long way into ensuring fair payouts and secure transactions. To find the licensing information of any casino, check the licensing bodies at the bottom of their home page, as well as the respective license numbers issued.
We take priority in those casinos that are optimized for mobile play. This way, you can enjoy your favorite casino games while on the go.
A casino's game selection should cater to all gaming preferences. You will go head over heels when you see the wide selection of online slots, table games, roulette, poker, and card games listed by our casinos. The free slot machines are especially ideal for new players who want to learn their way around online casinos.
On top of having a good selection of games, top Swiss online casinos must also feature a friendly user interface. This is in terms of how the games are categorized and ease of navigation.
Another very important criterion for choosing the best Swiss online casinos is the number of languages supported by the casino. This is because it is always an advantage to the player when he/she is playing in his own language. This is of special importance to Switzerland because the state has recognized 4 languages officially including German, Romansh, French, and Italian.
Each of the best Swiss online casinos provides 24/7 customer support to help customers troubleshoot any problems they might experience.
Online casinos operating in Switzerland tap into the safest online banking methods supporting CHF operations such as Paypal and major debit and credit cards.
Some of the best Swiss online casinos we have selected for you include Jackpot City, Royal Vegas, Gaming Club, All Slots Casino, Platinum Play, Lucky Nugget, Casino Mate, and 7Sultans. However, before checking out any of the Switzerland casinos listed here, we would like you to take some time to learn about the history of online gambling in Switzerland, the current legislation, and the future of the Swiss online gambling market.
Current State of the Online Casino Market in Switzerland
Before things took a swing in 1993, Gambling was totally illegal in Switzerland. This saw a limited number of land-based casino operators becoming fully licensed and regulated by the government. As for online gambling, the Swiss Gaming Act officially clarified it as illegal in 2019.
As it was before, facilitating online gambling in Switzerland remains illegal. Activities deemed as illegal by the Swiss Federal Gaming Board include operating an online casino server, advertising online casino games, managing a Switzerland-based online casino house, and processing online gambling transactions. Both operators and suppliers can be prosecuted.
According to a recent ruling, there is an exception when it comes to whether the online casino products are intended for Swiss players or not. With this, they emphasized that the most important concern is to protect Switzerland residents.
Fuelled by the global state of the online gambling market, international gaming operators continue to operate in Switzerland. Even without an online gambling licensing framework in place, international online gaming operators and suppliers can even entrust Swiss banks with their financial operations as they continue their operations in the region. In addition to this, the cantons also take it upon themselves to issue licenses, some of their most successful licensees being Swisslos and Loterie Romande.
The most recent attempt to bring the Switzerland online casino regime to life was a recent 2019 bill drafted by the Swiss parliament. It was the most vital regulation that was officially enacted in January this year after months of bitter, multifaceted parliamentary debates that ended woefully for the offshore online casino advocates. They had hoped to force a rewrite of the original draft that would allow international casino operators to smoothly operate in the already lucrative Swiss gambling market. But after their loss, only land-based casinos will be allowed to obtain operating licenses.
Online gambling laws in Switzerland FAQ
Here are the answers to the most commonly asked questions about the online gambling market in Switzerland:
Are there any gambling regulation bodies in Switzerland?
The Switzerland Federal Council is the only casino regulation body recognized by law with the mandate to issue operating licenses to casinos that want to venture the Swiss Gambling Market.
What is the gambling act regulating gambling activity in Switzerland?
The fate of gambling activity in Switzerland now rests in the hands of the Gaming Act that came into effect into 2019. Its restrictions mostly target foreign casino operators and not individual gamblers. In any case, it does not prevent you as a player from accessing an online casino as long as the casino allows Swiss players. The only limitation to this is that local authorities cannot institute a legal recourse to defend a Swiss player in case he/she ends up been treated unfairly by an online casino. The residents must, therefore, be very careful to only choose safe online casinos.
How old do you have to be allowed to gamble in Switzerland?
To be allowed to gamble in Switzerland, a person must be at least 18 years old.
What is the fine for engaging in online gambling activity in Switzerland?
According to the law, hosting games of chances online is punishable with a fine of up to CHF 2 million, imprisonment of up to 2 years, and seizure of acquired properties. There have, however, not been any charges against offshore online casinos operating in the region.
A brief history of gambling in Switzerland
As mentioned earlier, the country lifted the gambling ban back in 1993. Still, this only allowed the players to place limited stakes. Full-stake gambling became legal later in 2000 where games were placed into two major categories, games of chance & games of skill. Both could only be hosted in licensed land-based gambling destinations and since then, a total of 21 brick and mortar casinos and 11 live-betting horse racing tracks have been established. Each member state is also allowed to host lotteries.
Thanks to all these developments, the popularity of gambling has grown immensely. Approximately 22% of the total population is engaged in some form of gambling.
As for online casinos, there have not been any instances where it has been legalized in Switzerland. Since the dawn of the internet casino, the residents have had to gamble on foreign online casinos that accept Swiss players.
The future of online gambling in Switzerland
In terms of firmly laying down the Swiss online casino, 2019 turned out to be a key year. The residents at least know the opinion of the state in relation to online gambling. However, the document might lead to the ban of all Swiss online casinos operating from overseas. Several advocates are already negotiating with the concerned bodies to prevent a serious ban that would see the total shut down of online gambling activity in the region.
To the bright side, we might see the Switzerland federal council finally agree to give licensure to Switzerland-based online casinos by the end of the year. In the meantime, enjoy our list of the best offshore casinos that accept Switzerland players. We have only listed CHF casinos to ensure absolute comfort, flexibility, and safety. Believe us when we tell you that such a good selection of Switzerland online casinos cannot be found anywhere else.
What you need to know about the Swiss Gaming Act
Moving forth, the Swiss gambling market will be overlooked by the current state, as well as any amendments of the Swiss 2019 Gaming Act. What do you need to know about this law?
The new domestic act was implemented by the Swiss legislature in January 2019. The new regulation sets a clear restriction for overseas online gambling operators and suppliers. According to recent developments, an exception for all those sites affiliated to iGaming might be implemented.
The gaming act implementation was confirmed by the Swiss Federal Council, who clearly stated that it would take effect in January 2019. Perhaps the reason why there's so not so much hype about it is because the bill is considering applications for land-based casino licensures, as well as recommendations for its amendment during the first six months of 2019. All land-based casinos are expected to have acquired their licenses by the start of July when the total ban of foreign-operated online gambling activity will take effect.
Locally-based casinos who successfully acquire their licenses will be allowed to offer roulette and poker games. They will, however, not be allowed to do so before agreeing to comply with strict poker regulations that will limit the amount of money that the players can wager.
According to the council, all the measures proposed by the Swiss Gaming Act are primarily aimed at protecting the residents from problem gambling. The ban will also prevent the Swiss economy from losing around $220 million to the overseas online gambling market every year.
Conclusion
It is becoming clear that banning online gambling is not the most effective solution for protecting Switzerland online punters. This is because consumers have always been free to visit foreign online casino websites despite the alleged bans. To lay it out plainly, non-Swiss operators, untaxed & unregulated, have already established themselves in the Swiss territory.
Taming the Swiss online gambling market to ensure the safety of the players is now upon the players themselves. That's why we took it upon ourselves to include an attachment of the safest online casinos accepting players from Switzerland right here. This way, you can skip the part of looking for the casinos yourself and jump straight to wagering real money in Swiss online casinos while you enjoy the best casino bonuses.