Cai Bling Slot Review RTG Slots with Free Spins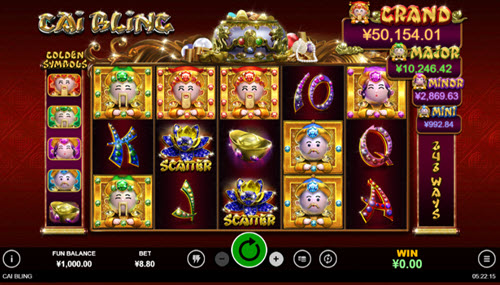 Cai Bling Slot
Launched date: 13th December 2020
Essential facts about the Cai Bling slot
Developer: RTG
Number of Reels: 5
Least Bet: 0.80
Maximum winnings: To be confirmed
Return to player: 96.00%
Pay-lines: 243
Highest wager: 88.00
Bonus feature: 2
Volatility: Low
Introduction
RealTime Gaming, a noteworthy and credible software programmer based in the United States, is in action again with its marvels. This time, the firm launched out a title which it tags "Cai Bling slot." Cai Bling slot is one more Chinese fortune event added to the RTG's collections.
Although you can notice the supremacy of Asian background & established practice, there's no way you'll chance on the familiar Eastern Chinese slot effect. Maybe you are eager to come about other creative elements, swanky background, gold, & diamonds; go on to study this report.
The Cai Bling slot machine has lots of built-in bonus play attachments & radical gameplay that come alongside it. We discovered this is not the first time Real-Time Gaming creating slots of a Chinese theme.
To prove this, Lucky 8 & Fucanglong makes one of the firm's number-one & bestselling slot games. Meanwhile, the Cai Bling slot is superior to all possible options in its category. Herewith Cai Bling slot, we touch on two wild icons, four progressive jackpots, 243 winning ways & different high rewarding icons plated with jewels.
RTG Casinos
Theme & Winning potentials
Cai Bling slot introduces a Chinese storyline all from RTG developer. In this situation, the creator decided to handpick a feature-rich theme arranged upon five rows, three reels with a multicolored, palatial & rainbowlike layout. Cai Bling slot considers a progressive jackpot with possible winnings worth 50,000x of a player's bet.
There is nothing like pay-lines found with the Cai Bling slot. Indeed, users can cudgel their brains; how is that possible to line up a winning combo? The interface concept has a plain appearance for pairing up the wild icons, various characters right through left to right. Going by the 243winning ways, you're guaranteed to have a befitting pay-line order.
Are you mindful that figure 8 is thought of as a lucky number found in Chinese practices? As a result, it's with full intent that the wager values with the Cai Bling slot start from £0.8 – £88 for each stake. Right in this Cai Bling slot, it accounts for a handful of play elements included therein, for instance, the scatter icons, standard & wild multiplier symbols, bonus spins, & scatter icons.
It's much more possible to activate 12 bonus games alongside at least 3 scatter characters positioned by the adjacent reels. Please pay attention to the multiplier wild cat icons that appear no other than reel three since its values are as much as 5x, determined by a player's bet. To discover more of the built-in attachments & bonuses, keep reading this critic. The game seems so much captivating to play & equips with so many features in stock.
Layout, Characters & Visuals
Cai Bling slot machine allows for a familiar Chinese theme, surrounded by dark colors that's relatively bright, including those that are bold & illustrations. The emphasis of the Cai Bling slot is on superfluity & gems that flaunts the richest, better-looking side of the design.
The moving pictures look uniform & soothing, also make the slot much easier & eye-catching. The soundtrack running behind is classic, of good quality. It can appease to make you activate it while you roll the reels. The same applies to the slot's incidental music since they symphonize smoothly to the whole feel & do not cause any annoyances.
As observed with different slot games identical to Cai Bling Slot, the less rewarding characters represent the card royals, created & put down in Chinese print style presented with diamonds. The most valuable icons include the four small cartoon strips that are put on uniquely colored classical apparel.
Scatter symbol | Blue Egyptian water lily
The scatter characters appear as the ornamented Blue Egyptian water lily that activates the bonus feature, while 3 of these symbols show up on adjoining reels. The wild depicts as the dragon colored green & shows up on second, third, & fourth reels. The character replaces every other icon apart from the scatter symbol.
Wild character | Lucky cat
The wild multiplier icon has it as a lucky cat that substitutes every other character, excluding the scatter & wild symbols that value 5x of a player's wager. One more imperative feature is the exclusive line that's apparent by the left axis of the reels.
These are the standard & tow-colored characters. If you tap any comic strips, it transforms to a color with gold, which also increases the bet. You may have as many as five tow-colored icons, for an extreme of £88 for each stake.
Winnings, Volatility, Return to player rate
Real-Time Gaming is always known to make things somewhat curious about the valid Return to player rate considered for the Cai Bling slot. Taking to account Real-time gaming past slot products, we guess it should be about 96%. Also, the general public tagged this slot of low variance caliber, which impresses users to expect payouts time after time.
However, the worth of each is lesser. Read further about the meaning of Return to a player, stuffs to anticipate from the gameplay & the slot's volatility from our general RTP & variance sample. As discussed formerly, the highest payouts allowed in this slot is 50,000x of a player's stake. With a slot of low variance, it's quite an inspiring chance of winning.
At any time, we lay hands on valid information of the slot's RTP rate & winnings; we will report it immediately to ensure you better understand the built-in arithmetic design.
Play-elements & Gameplay
Cai Bling slots provide a handful of play elements to boosts one's payouts while having gameplay. The scatter & wild icons make one of these features, with which the former depicts as the lucky cat & the latter is a gigantic dragon.
Land 3 or more of the scatter symbols to trigger the Bonus Spin feature, & in the same action, you get 50x of a player's stake. Meanwhile, the jackpot element splits into four jackpot samples. Now, we'd check out what the features put forward in the gameplay.
Bonus Spins
Perhaps you bring up 3+ of the scatter icons on any reels one after the other, starting with the left to right; in this way, you activate the bonus spins element. Be that as it may, this reaction releases a prize of 50x of a player's wager. You can collect 12 bonus spins with the choice to reactivate the spins similarly.
Progressive Jackpot
Speaking of the progressive jackpot elements, you can activate this through their bonus elements. First, you have to pull down a wild icon over the slots reels to claim any of the jackpot rewards. Then, in line with the bet amount & counts of gold-covered characters you'd like to add, you can decide the jackpot level (Grand, Major, Minor, & Mini Jackpot).
Mobile functionality
Maybe your choice is to play up your preferred slots on mobile; note that the Cai Bling slot is mobile compatible. It implies the slot is enhanced for play on all OS & gadgets, so anticipate a slick & smooth play session. Thumbs up to the breakneck layout & sublime visual artworks; you can't experience hitches while running the game on the go.
Other Slots from RTG's desks
RTG is a beloved creator of slot machines having hails from the United States. Some months back, the firm already came up with many blue-ribbon games that players can find captivating & intriguing.
For example, explore Rave Riches slot, a classic, dancing party rocking theme, with which you come about DJ's colorful characters & balletomanes representing the characters over the reels. Another option is the Wild Hog Luau slot that brings you to a lonely haven with which you find a bunch of comical & cheerful flocks.
The slot provides all you can watch out for as far as bonus features & more. It's a general belief that the Lion is the king of any animal found in the jungle. Nevertheless, it's contrary in the Emperor Panda slot machine. Dissect this slot play adventure found in rattan bushland & take note of the built-in musicals & activities– in short, they are incredible.
Conclusion
Cai Bling slot appears much more befitting than other slots in the family of slots with a Chinese theme. Though large payouts are rare due to this slot's low variance, the game allows the chances to hit as much 50,000x of a player's stake on just a spin.
In addition, the built-in play elements significantly boost one's potentials to earn a considerable amount. By and large, the Cai Bling slot is a stylish option that users will like or dislike. Maybe you want the Orient bling & fortunes slot; we suggest you give a try.