Sevens and Stripes Online Slots (RTG) Real Money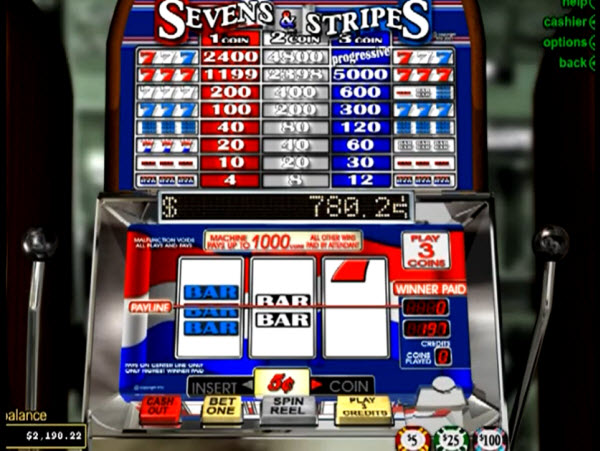 Sevens and Stripes slot is an online video slot that runs with Real Time Gaming software. This slot game features lots of bonuses for Americans including high paying icons, progressive jackpot, multipliers and many more.
About the Game
This is another RTG slot game, which gives an opportunity of winning huge prizes to Americans. Starting with the red, blue and white icons, the game has a retro feeling of a traditional gameplay with a single win line and three reels. Also in the game are special icons that entices America gamblers and several bars of with 3 colors of lucky 7's and 3.
Gameplay
This is an American game that is filled with loads of offers, the reels of this game can only by spun by selecting the option of three coins per spin and this also results in winning progressive jackpots that gives a coin value of about ten thousand. Lining up every one of the blue, red and white 7's respectively results in the activation of this progressive jackpot.
The options of three coins is not the only paying option of the game, lining-up the jackpot combo of the game can also result in massive payouts. Going for the option of a coin will reward you coins that worth 2,400 in value while the option of two coins will reward you 4,800 coins.
The game has many other icons that can be matched to obtain form a winning combo. One, two and three bars all gives prizes and combining any of these three will result in a win of 4 coins and 12 coins.
Obtaining a single bar thrice will result in a payout of ten coins and thirty coins, obtaining double bars thrice will result in a payout of twenty coins and sixty coins while obtaining triple bars thrice will result in a payout of forty coins and one-hundred and twenty coins.
However, hitting 3 blue and 3 white 7's will result in a payout of 100, 300 and 200, 600 coins respectively while hitting 3 red 7's will result in almost the half size of the game jackpot with payout that ranges between 1,199 and 5,000 coins.
Free Game Option
America is not only known as the land of the brave but also known as the "Land of the Free" and this is the reason behind the free game option that Real Time Gaming provided in this slot game. This game is available for players to play free of charge before trying to play for real cash.
Verdict
Real Time Gaming developed this video slot purposely to honor the loyal citizens of America and that is why it can be played for free at any period of time. This Sevens and Simple Stripes slot is a retro-styled game and it has an interesting gameplay.