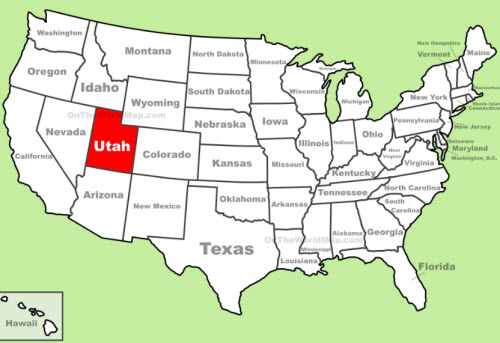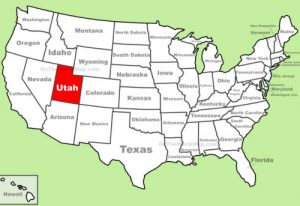 Utah Gambling
In Utah, the only legalized form of gambling is Bingo. All other forms are deemed illegal including lottery
Utah has a simple definition of gambling. According to Utah Code, Section 76, gambling is risking anything of value upon the outcome of a contest or a game when the outcome involves an element of chance. Since all gambling is considered unlawful, all players face a misdemeanor charge when caught. The punishments get more severe with subsequent offenses and the Utah code has been updated in 2012 just to add a regulation that would specifically prohibit online gambling.
Utah Casinos
Casino games are completely illegal in Utah – people looking to play them have no choice but to look beyond state borders. West Wendover, Nevada is a popular destination for gamblers from Utah, as evidenced by the fact that this town of 5,000 residents is capable of supporting five casinos, four of which house more than 35,000 sq. ft. of gaming space. As mentioned, playing online is patently illegal, and people who get caught playing on offshore sites can expect class B misdemeanor charges.
Utah Poker
Playing poker for money is illegal in Utah, and this prohibition extends to home games with no rake involved. The boost in this game's popularity following Chris Moneymaker's 2003 WSOP victory resulted in tighter enforcement of the restrictive regulations, and the local authorities were unmoved whenever the argument that poker is a game of skill was raised. Playing over the internet is also explicitly prohibited, and using offshore sites can get you class B misdemeanor charges.
Utah Sports Betting
The last time something resembling sports betting was legal in Utah was in the 1920s. Today, both traditional sports betting and pari-mutuel horse race betting are completely illegal. Attempting to circumvent this prohibition by joining an offshore sportsbook or racebook is a class B misdemeanor.
Utah Daily Fantasy Sports
High-profile DFS platforms like FanDuel, DraftKings, or Yahoo DFS accept players from Utah, but this is more of an oversight on the part of Utah legislators than a sign of changing times. If a dedicated DFS bill is ever proposed in Utah, it will likely be limited to extending the general gambling ban to paid DFS contests. What's more, Utah residents who participate in paid DFS contests should be aware that they might be pursuing this hobby in violation of the law – the authorities are in no way obliged to follow the DFS companies' interpretation that such contests are based on skill rather than chance.
Utah Lotteries
Utah is one of five states that don't run a lottery. Purchasing tickets via a lottery concierge service is classified as unlawful gambling.
Utah Bingo
Unlike poker or casino games, live bingo is tolerated in Utah, but the people who offer it must get creative to avoid incurring the wrath of the law. For example, one restaurant in Salt Lake City relied on bingo to attract more customers. Technically speaking, the bingo cards were handed out as a free addition to each purchased meal. The restaurant in question was eventually raided by the police and shut down. Two lawsuits later, the owners reached a settlement with the city council and were allowed to continue offering this service as long as patrons had to option to order a meal without a card. Naturally, most business owners prefer to avoid all this trouble, so the availability of live bingo is minimal. Online bingo is treated like any other form of gambling and is blatantly illegal.
Utah Online Gambling FAQ
What types of gambling are available in UT?
Utah has the reputation of the least gambling-friendly state in the entire country – and to be completely honest, it is well deserved. Utah regulations make it impossible for local businesses to offer regulated land-based gambling. Even charity raffles and bingo games are considered illegal and unlike in the case of Hawaii, the local law enforcement is very serious about keeping the state completely gambling-free.
What laws cover online gambling in Utah?
Gambling in Utah is covered by Utah code, Section 76. The local regulations are as extremely restrictive and the local police is doesn't joke around when it comes to enforcing them. As unfortunate as it is, playing on offshore poker sites is inherently risky there.
Is real money online gambling legal in Utah?
No. Utah regulations prohibit gambling within the borders of the state and there's no doubt that this also applies to playing games of chance on offshore sites.
Which offshore gambling sites accept Utah residents?
Despite the fact that online gambling is illegal in Utah, most offshore gambling sites don't mind accepting Utah-based customers.
What are the most popular banking options supported by Utah-facing sites?
Most of the Utah residents who decide to take the risk and play on offshore sites cover their gambling expenses using standard credit card payments. When it comes to withdrawals, Utah players don't receive any special treatment, which means that they have to choose between a bank wire transfer and a check by courier.
Does Utah offer any intrastate online gambling?
No, Utah doesn't allow gambling in any shape or form. This obviously applies to internet games.
Is it likely for Utah to regulate online gambling?
No. It's literally impossible for Utah to introduce any iGaming-friendly laws in the foreseeable future. The local lawmakers have already stated that even the federal government can't force them to change their attitude towards online gambling or gambling in general.