Muscle Tussle Slot: Dive into Power-Packed Wins & Gameplay Review!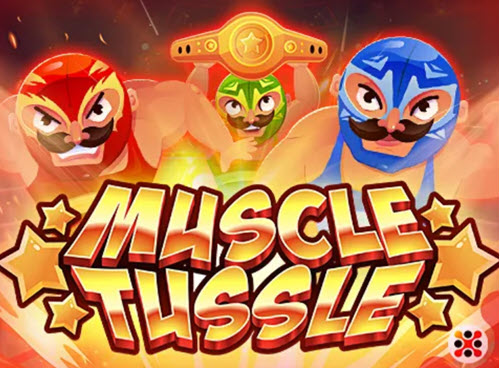 => Play on Muscle Tussle Slot Now!
Prepare to flex your muscles and win big in the Muscle Tussle Slot! Our comprehensive review takes a deep dive into the game's power-packed features and gameplay. Will you emerge victorious?
Gear up for a riveting clash of power, chance, and skill in the arena of Muscle Tussle! This trailblazing slots game puts a futuristic spin on the old-school casino staple roulette, infusing every round with high-octane excitement. The battleground transforms into a vibrant spectacle as the ultra-modern roulette wheel comes to life.
Brave warriors adorn each block, outfitted in flashy battle armor and ready to brawl for supremacy. You can almost hear the screech of metal and the rumbling anticipation as the wheel gains momentum. Any moment now, a champion will emerge victorious! With jackpot payouts up to 14X your bet, Muscle Tussle amps up the winning potential to extraordinary levels. Let's enter the competition's heat and explore the pulse-pounding gameplay that sets this slot apart.
=> Play on Muscle Tussle Slot Now!
The Arena of Champions
Even a quick glance at the arena is enough to sweep you into the action. The imaginative artistic design makes every element pop with exhilarating motion and vibrancy. Block-shaped spaces resembling futuristic buildings spin around the wheel, each etched with images of warriors representing competing clans. You'll notice red- and black-clad fighters exuding brute force and rare green combatants wielding unconventional weapons.
The colors correspond to the three betting options (red, black, or green), adding thrills when your champion's hue wins! But it's not just the creative artwork that hooks you in. The smooth, perpetual spinning of the wheel makes gameplay incredibly dynamic. As bets are placed, anticipation crescendos until the final moment when the ball rests, signifying the fated winner in that round's battle royale. With so much visual stimulation, every single spin is unique and electrifying!
How to Dive into the Game
Playing Muscle Tussle is a breeze once you get the hang of it. Start by selecting your preferred bet amount from the minimum to the maximum limit—go bold or go home! With jackpots up to 14X your wager, it pays to bet big. Next, choose one of the three colors representing the warrior clans as your winning pick. The red and black factions have the highest probability, so they pay 2X your bet.
If you land on the rare green warriors, you'll win a 14X payout—high risk but potentially huge rewards! Once you've finalized your bet details, lock them in by hitting the "Place Bet" button. Then comes the best part—watching the wheel spin up a storm of anticipation! Keep your fingers crossed as the winning color emerges. If it matches your pick, collect your payout. Don't fret if you don't win; observe patterns and employ strategy to maximize your edge on the next bet. With practice, you'll get into the exhilarating rhythm in no time. Give it a shot—let the games begin!
Understanding the Game Rules
While the gameplay is straightforward, knowing the betting rules gives you an advantage. First, note the minimum and maximum wager amounts, and bet responsibly within your means. Next, understand the three colors and their payout ratios. Red and black each pay 2X your stake as they have the highest probability of occurring. The rare green warriors pay a whopping 14X due to the lowest probability, high risk, and highest rewards.
Once you've placed your wager, you can click "Cancel" to retract your bet completely before the round starts. However, once the wheel starts spinning, no backsies! Learn to use the cancel function strategically. Maybe you misclicked and want to change your bet or observe something that makes you rethink your odds. Familiarizing yourself with the rules opens up more avenues for strategic betting.
=> Play on Muscle Tussle Slot Now!
Flexibility in Gameplay
Most roulette and slots force you to accept all placed bets, restricting your flexibility. However, Muscle Tussle allows you to retract wagers before the round begins, thanks to the "Cancel Bet" function. This gives you breathing room to re-evaluate your betting strategy or amount mid-way. If you impulsively bet big and get cold feet, cancel and start lower.
Observe the winning patterns over a few rounds to regain confidence before betting more. The cancel option brings in an element of strategy, allowing you to gauge risks versus potential payouts. Start experimenting with test bets before diving into high-stakes waters. This flexibility allows you to customize gameplay and betting to suit your comfort and style.