Huolong Valley Slot Review: Free Play and Bonuses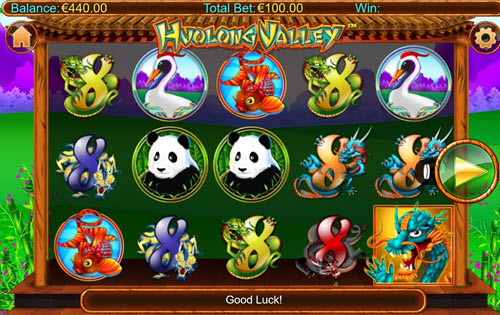 ==>Play on Huolong Valley Slot
Read our review of the NextGen-developed Huolong Valley video slot or play the demo version for free right now! Click here to get to the website!
Slot Details
Name: Huolong Valley
Software: NextGen
RTP Percentage: 0.9699
Volatility: Medium
Min and Max Bet: $0.20-$100
Number of Pay lines: 20
Max Payout: 6,0000x
Max Free Spins: 7
Bonus Features: Free games, multiplier wilds, scatter jackpot
Theme: China
Huolong Valley is a slot machine by NextGen that is fittingly named since the name translates to "Fire Dragon Valley" in English. The fire dragon is the most valuable symbol in the game, and it is only one of many beautifully painted icons that adorn the reels. The true promise of the game, on the other hand, lies in the intriguing combination of multiplier elements, which may enhance winnings by 3x to 12x. With its enticing aesthetics, exciting gameplay, and selection of games that may increase your free spins, Huolong Valley hopes to retain your attention for an extended period of time.
Huolong Valley Slot Machine's Best Features
Huolong Valley focuses on gameplay simplicity and manages to be simple and approachable while still having more significant gameplay than other NextGen products. Some of its more notable features are as follows:
There is a lot of variation in the gameplay, with wilds that increase your winnings, scatters that deliver rewarding prizes and bonus symbols that activate unique free spins, all adding to the excitement.
Double wild winnings and 6x bonus spin multipliers may be combined to create a stimulating and high-risk gaming environment for players.
High winnings that are impressive: While playing Huolong Valley, look for top outcomes that pay out 200x–300x your whole wager amount.
The best way to enjoy the Huolong Valley online slot machine for free or for actual cash.
There are 20 fixed pay lines on this 5×3 slot, and the betting range is from $0.20 to $100. The return to player (RTP) is 96.99 percent, which is higher than the industry average. Aside from altering the coin value, you can also select the number of auto-spins from anywhere between 1 and 100, as well as whether or not to play with music. You may start the game by pressing the little arrow button located at the right of the reel set and seeing how it unfolds. Play slot machines for fun with our demo mode on our site, or deposit and wager actual cash at one of our approved casino sites.
Graphics and design for the Huolong Valley
Huolong Valley has stunning visuals and a fluid interface that is both pleasing to the eye and simple to use while playing. It takes the combined efforts of violet petals and bamboo shoots fluttering in the wind before a stunning purple mountainside to provide an eye-catching backdrop for the reel set and icons. The reel layout, which incorporates pandas and red-crowned cranes, as well as other cultural artifacts with many "8"s, all of which have a unique dragon, has a gentle charm to it. Everything about this video slot is well-structured and rather unique when compared to the standard Chinese-themed video slot.
What are the additional features in Huolong Valley, and how do they operate?
On exhibit in the Huolong Valley are three different types of extra features. These include wilds, bonus rounds, and scatters. While the scatter symbol is often used to initiate special games in other games, it serves as a jackpot sign in this game. In the same way, the bonus rounds and wilds each have their own unique twist.
When you get a combo that includes a wild icon, the winnings are instantly multiplied by two. When at least two scatter icons appear on the reel set at any time, you will be paid off according to how much money you have wagered.
One scatter represents one hundred percent of the entire stake.
Three scatters provide a 2x multiplier on the total stake.
The combination of four scatter symbols means that there will be 15 times the overall bet won.
A 200x multiplier on the overall bet results in one of the highest payouts in the round.
Free Games Round
The fantastic free game rounds are the major bonus element of Huolong Valley. Although seven free spins is a comparatively small number of possible bonus spins, the integration of two selection game rounds makes the game more fun. After hitting three or more bonus symbols, you will be sent to the first selection game, where you will be able to determine how many spins you have won.
To get your free games, you must first win four to seven of them. Then you must select from six lanterns, each of which contains a number of free spins. It's possible to win anywhere from four to seven free games during this promotion.
Set the multiplier by choosing a lantern and seeing six coins fall from it once you choose it. Each of these coins has a secret multiplier ranging from 3x to 6x, and the multiplier you select will be applied to all free game winnings once you pick it.
Wild winnings are multiplied by two. The multipliers from bonus spins as well as wild symbols stack together, giving you a maximum multiplier of 12 times. Using four fire dragon icons plus a wild, you can earn 60,000 times your coin value, which is the most amount you can win on this slot machine (300 times the total bet). When there are so many options available, Huolong Valley provides gamers with a lot to think about.
How to Get the Huolong Valley Video Slot on the Internet
If you prefer playing Huolong Valley for actual cash, you can rely on Bitstarz or 7Bit casino Canada to provide you with a fair gaming experience. These two online casinos offer the game and comply with transparency requirements, which ensures that they are reputable and dependable organizations in the gambling industry. Despite the fact that each of them has its own fan base, fans of each casino value different aspects of their respective establishments.
In addition to a casino as well as a sportsbook wallet that functions as a two-in-one online wallet, Bitstarz offers well over 300 online slots to choose from. Among the many actual cash games available at 7Bit Casino, players will find a well-balanced, high-quality selection that will not overwhelm them with options while yet providing excellent functionality. It's a sleek, fast-loading site with several unique features, including a notice on the RTP of every slot machine's last hour.
Final Words on NextGen's Huolong Valley
Huolong Valley, developed by NextGen, features many of the most beautiful graphics of any new NextGen game, as well as a more complete and intriguing gaming experience than many of the company's previous titles. Although the multiplier bonus spins premise is well-worn, the addition of choice games offers variation and a novel gameplay edge. Overall, we feel that Huolong Valley is among the best NextGen products and that it merits an 8 out of 10 ratings.