Fishin Frenzy Online Slot Review: Free Play and Bonuses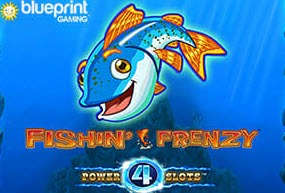 Slot Data
Slot Name: Fishin Frenzy
Software: Blueprint Gaming, Realtime Gaming
RTP: 96.12%
Volatility: Medium volatility
Paylines: 10
Reels: 5
Min Bet (all lines covered): $0.20 (CAD)
Max Bet: $400 (CAD)
Top Win: 5000
Features: Bonus Game, Wild Symbol, Free Spins, Medium volatility, 5 Reels
Themes: Animals, Fishing, Nature, Sea life
Available in CA: Yes. Blueprint Gaming slots are available in Canada.
Pros
Big Top Single Win of x5,000 in Feature
Up to x20 Free Games Available in Free Spins.
Fisherman Wilds in Free Spins lead to Big Wins.
Respectable Payout Percentage of 96.12%
Cons
No Bonus Features other than Free Spins
Released in 2014, so looks dated against new Slots
Basic sound effects
The website www.gauselmann.de is the proprietor of the Fishin Frenzy brand (owners of Merkur and Blueprint ). We do not mean to imply that this website is of the same quality as or is a continuation of the goods or services offered by www.gauselmann.de by writing an article about Fishin Frenzy and providing a link to an external website that hosts a demo version of this game.
Fishin' Frenzy is a video slot game that can be played online and was created by Realtime Gaming. It consists of five reels, three rows, and 25 paylines that are always active. The bonuses comprise a feature that awards free spins as well as a unique paying symbol that awards cash rewards.
Realtime Gaming is responsible for the creation of the Fishin' Frenzy slot machine game, which was later sold to both Blueprint Gaming and Merkur (that is the reason for the multiple providers in the game information section). If you're interested in playing this game, you can try the demo version of the free-play online slot, Fishin' Frenzy, here on our website.
This online slot has been quite popular for quite some time now, and it was only a matter of time until a Megaways variant appeared.
So, what are the unique features of this slot that have made it so popular that it has been played for so many years? Keeping things simple is essential, and having a great bonus spins bonus session that awards rewards whenever a Fisherman Wild appears is essential to bringing in the big bucks.
The graphics and theme of the Fishin' Frenzy game
When a player opens the window for the Fishin' Frenzy slot, they will immediately recognize that they are about to take part in a fantastic game that has a marine and fish-related theme.
Adventures Beneath the Sea
The slot machine game includes a piece of wonderful music, which picks up the pace whenever a winning combination of symbols is formed on the reels. Despite the game's very simplistic appearance, it has, for a number of years now, been immensely popular with gamers in the UK.
In addition, the Fishin' Frenzy demo UK slot has an enticing ding-ding-ding sound effect that keeps playing in the background while the win is being calculated. The more you win in Fishin' Frenzy, the livelier the music becomes, which contributes to the overall feel of the game, which is reminiscent of a relaxing day at the beach.
Realtime Gaming has loaded this game with lots of nautical action in it to keep players amused as they (hopefully!) earn awards.
Instructions for Playing "Fishin' Frenzy"
To get you started, here are some quick bullet points:
You may read the regulations, have a look at the paytable, and adjust your sound options by clicking on the list menu.
You may change the amount of your overall wager by using the and > buttons.
Set your spins, loss limit, and single win limit if you want to make the most of Autospin if you use it.
After determining how much money you want to spend throughout the session, choose the "Spin" button.
When players look at the screen for Fishin' Frenzy, they will notice that it is a game that has five reels, three rows, and up to ten different methods to earn prizes that may help them conquer the ocean. The aim of the game is to get matching symbols to line up in a row on the reels in order to win some of the fantastic prizes that are available.
Controls
When you analyze the layout for the Fishin' Frenzy slot in some more detail, you'll undeniably realize that the majority of the essential items you need to fish for rewards in this game are organized along the bottom corner of your screen.
The Power button looks like a bright green square and is located on the lower right-hand side of the screen. Just over the Start button is a little blue rectangle with the word Auto written on it. If you want a more streamlined and brisk gameplay experience, you should press this button.
Symbols, Gameplay, and the Layout of the Game
The ten, the jack, the queen, and the king make up the card deck's lowest-paying symbols. The ace is the highest-paying symbol. The design isn't very complicated, but the developers of the game have included some fishy details wherever they could in the symbols.
Landing Wins
The payout for winning combos that contain these symbols is always the same: five times the total bet for three of these icons in a winning combo, 25 times the overall wager for a winning combo that contains four of these icons, and 100 times the overall wager for five of these icons in a winning combo.
Top-Paying Icons
When playing Fishing Frenzy, you will want to make sure that the fishing rod appears on the reels. This is because the fishing rod is an important component of the kit of an avid angler. If the sea wind is blowing luck your way, you can finish up with five pelicans on a payline, which would reward you with a big payoff of 2,000 times your stake. If this happens, consider yourself quite fortunate. The following are the top rewards that may be won using the remaining symbols:
All poker symbols: 100x
Fish: 200x
Lifesaver: 500x
Fishing rod: 1000x
Pelicans: 2000x
The RTP of Fishin' Frenzy
The Fishin' Frenzy slot machine by Realtime Gaming has a return to player percentage of 96.12 percent. It is rather remarkable when you consider that they introduced this slot machine in 2014, a time when payoff percentages were, on average, lower.
Bear in mind, however, that the RTP for Fishin' Frenzy is theoretical in nature, having been calculated by the developers after thousands of game rounds have been played. Therefore, there is no guarantee that you will walk away with £96.12 for every £100 that you risk.
Sometimes you'll win a greater amount, and other times you'll win a smaller amount. When analyzed in relation to other slot machines, the RTP becomes much more informative. A game with a return to player percentage of 95 percent, for instance, has the possibility of being less profitable than a slot machine like Fishin' Frenzy.
Volatility
Fishin' Frenzy is a slot game that has low to medium levels of volatility. This shows that you won't walk away with massive victories that might completely transform your life, but you will win rewards a lot more often.
The very volatile games of today's online gaming industry (often even marketed under the name "extreme volatility") are among the most popular slot games. It's exciting to see top rewards of 50,000x up for grabs, but it's vital to keep in mind that victories in these games are quite uncommon because of the high level of competition.
Low-to medium-variance slot games, such as Fishin' Frenzy, are great options for players who have financial constraints or who just want a less intense level of competition when they gamble.
Gamble Feature as Feature
You have the option to collect your earnings immediately after scoring a winning combination that corresponds to a reward, or you may choose to gamble the award in a bonus game instead. If you would want to collect your winnings, you may do so by clicking on the Start screen, which will have the words "Take Win" written next to it.
Considering that you won't be losing any actual cash if you use this feature while playing the Fishin' Frenzy demo, it's a smart move to make use of it.
A Guide to Gambling
You have the opportunity to wager five times in a row with the help of this engaging and flexible bonus feature, which may significantly boost the amount that you win:
When you have a winning streak going, you should click the gamble option.
Once you have entered the round, choose a card color to begin.
A card is drawn. They will increase your prize by one if your guess is accurate.
If your guess is wrong, you will lose the points you earned, and the game will be over.
You can repeat the process if you like
Be Responsible When Betting Your Payouts
Be careful not to let the gambling option consume too much of your focus and attention. You could get carried away since this kind of function isn't all that frequent in freshly launched slot games; nonetheless, it's quite simple to lose all of your earnings if you don't pay attention.
Gambling for a reward is something you should do no more than once or twice, in our opinion. In such a case, you run the risk of experiencing some really major slots tilt as a result of missing out on a win that you were already sitting on.
Bonus Free Spins Available Within Fishin' Frenzy
The game will award you ten wonderful bonus spins of the reel set if you are fortunate enough to hit three Scatter icons during gameplay. The amount of free spins you get in Fishin' Frenzy is determined by the number of scatter symbols that occur in the game:
If you get three scatters, you'll get ten free spins.
Four scatters will provide you with fifteen free spins.
If you get five scatters, you'll get 20 free spins.
It is unnecessary for the Scatter symbols to be arranged in any specific pattern on the reels in order to win. They need to just appear on the reels for you to be awarded the corresponding bonus rounds and bonus spins.
Trying Our Luck At Winning
The fish symbols will emerge on the reels during the free spins, and each one will have a different price tag attached to it. This will make the bonus spins even more enjoyable and lucrative. The fisherman with the upbeat demeanor will next approach the reels, and he will proceed to bring some of the fish that have price tags on them to the surface.
During the bonus round consisting of free spins, there is an additional opportunity to rack up the game's largest single win. In the very improbable case that x5 Fisherman Wild Icons fall on the reels, you will get a big payout equal to 5,000 times the amount of your initial wager.
Why You Ought to Play the Fishin' Frenzy Demo
We highly recommend that you try out the Fishin' Frenzy demo version of the game before you play it for actual cash at a casino website. You should now have a solid understanding of what the gaming experience is like and how it fits within your budget as a result of this.
We strongly suggest that you play between 150 and 200 free spins on slots so that you have more than enough time to familiarize yourself with the game and its rules. It is essential that you place the same bets with virtual currency as you would with actual cash if you were playing Fishing Frenzy at a real-money online casino.
Other Online Slots in the Fishin Frenzy Series
Because Fishin' Frenzy has been such an immense success, the developer has decided to build a variety of other games that are just as much fun. In addition to the original Fishin' Frenzy slot machine, you may also play the following Fishin' Frenzy slot machines:
Fishin' Frenzy: The Big Catch
Even though there are just ten paylines, the bonus round of Fishin' Frenzy: The Big Catch is much improved. During the bonus round that consists of free spins, any fisherman symbols that appear will be collected.
When you have gotten four fishermen, the two instant win fish that pay the least amount of money will have their payouts increased. Therefore, it's likely that by the time the bonus is through, there will be just 50 fish left!
Fishin' Frenzy Megaways
Naturally, the Megaways had to give Fishin' Frenzy a facelift before they could release it. Fishin' Frenzy Megaways provides players with the opportunity to win one of up to 15,625 different prizes, with the grand prize being worth 10,000 times their initial wager.
There isn't a lot that distinguishes Fishin' Frenzy Megaways from the original version of the game; nonetheless, the increased number of ways to win and the maximum bet make for a pleasant change of pace. There is also the same free spins round, in which the fisherman gathers fish in order to earn quick rewards.
Comprehensive Analysis of Fishin' Frenzy
The Fishin' Frenzy slot machine from Blueprint is a fantastic game that mixes the action of slot machines with all the pleasure of fishing, and it has attained the popularity that it justly deserves among different types of gamers all across the UK who love its style and rhythm.
Simply put, it gets the job done.
Slot game enthusiasts continue to have a strong preference for Fishin' Frenzy, although it is not the most technologically sophisticated game currently available on the market. Players are really captivated when they experience a game that combines an uncomplicated style with an innovative bonus element.
When Big Bass BonanzaFishin' Frenzy was introduced, the symbol collecting bonus was undoubtedly much ahead of its time, and we are amazed that we haven't seen it much more frequently since then, as it was surely way ahead of its time. There aren't very many games that really make use of it, but Big Bass Bonanza is one of them.
Is It Worth Giving It a Shot?
When you load up the Fishin' Frenzy sample slot game on your screen, your catch of the day has the potential to offer you plenty of action, bucket loads of excitement, and an ocean full of delectable rewards anytime you play!
Disclaimer: Blueprint Gaming and Realtime Gaming are the rightful owners of the Fishin' Frenzy trademark and license. Blueprint Gaming and Realtime Gaming do not support or sponsor this website in any way.
When you click on this button, you will be sent to the website of an independent third-party affiliate, an actual cash casino. Even while we make an effort to pair games with casinos that offer them, we strongly recommend that you double-check the online slot selection on the casino's site before signing up for an account or making a payment.
Frequently Asked Questions about the Fishin' Frenzy Slot Machine
What kind of volatility does Fishin' Frenzy have?
Because Fishin' Frenzy is a slot game with low to medium volatility, you'll have a good chance of winning a variety of different-sized rewards during the game. As a result, the experience that more casual gamers have with this slot machine will be enjoyable.
How does one go about claiming the Fishing Bonus?
During the round, when you get free spins, the totals of the fish symbols that have tags attached to them when they appear on the reels at the same time as the fisherman will be totaled together, and you will receive the sum of those totals as a bonus reward.
What is the return to player percentage for Fishin' Frenzy?
The return to player percentage (RTP) of Blueprint Gaming's Fishin Frenzy is 96.10 percent. This is extremely amazing for an older video slot, given that it adheres so closely to the standards set by the industry.
Is there a chance to win free spins while playing Fishin' Frenzy?
The extra round of free spins is activated when the player lands three or more scatter symbols anywhere on the reels. During the bonus round of free spins, if you manage to land a combination of the fish symbol and the fisherman symbol, you will earn an immediate reward.