777 Slot Review. Online RTG Slots Real Money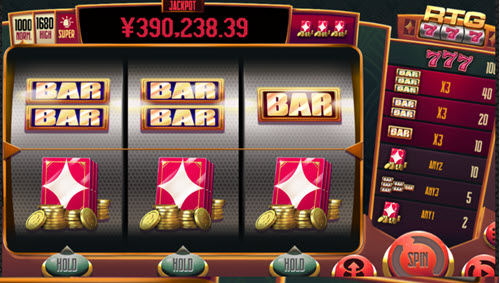 ---
This is a novel game with a classic theme powered by RTG. It follows the old recipes, although it was able to make it more fun with a progressive jackpot and modern graphics. It obviously does not hurt that it's got a great Return to Players too. Continue reading to figure out if this slot is one to play anytime you feel like opting for a classic slot.
You're playing on three reels, spinning them, then making use of one active line in forming winning combos. Here, the best wins attainable for you will only return 100 times back to you, so it won't be easy to get rich from this slot. The perk is that this game can deliver a progressive jackpot, and it's got a lot better value compared to what you'll get from regular combos. You aren't receiving any main features here, although with the exception of the Hold option that you can't typically find in classic slots.
Prizes and betting
We're having the option of setting up the bet for the round, and as there's just one line, it is easy enough to know how everything works. The bet you can select from in total range from USD0.10 and USD200, and they'll also go to one pay line.
They've only provided average returns where you can only get 100 times with the top combination (three 7s). If the wager is set to its top values you have the potential of earning up to USD20,000. The game has got a visible progressive jackpot on top of the Reels. Typically, it is of higher value, even though it is still around five figures.
What I particularly like about this slot is the fact that its RTP is high at 97 percent, which is excellent for a slot. They've got a couple of titles that get similar returns, and it is even rarer in games that have classic themes and three Reels. This likely includes the progressive jackpot too, so the RTP of the game itself is probably lower than this.
Features of 777 Slot
Just like it is with several slot machines, there won't be regular features in it, so no wilds, multipliers, or free spins, just to list some possibilities.
What's available in this game is its Hold option. It is a button you'll see under the 3 reels. You'll initially spin the Reels then get some symbols. After, if you're not able to get a winning combo, you can decide to Hold (lock) 1 or 2 of the Reels. You can only spin the ones that are still open again, hopefully offering you the required symbol to form a combo. There's a form of strategy in this place that I enjoy seeing, and it's very uncommon in all types of slots.
There's a cost associated with the Hold options, and it varies depending on the round's potential outcomes. If you are trying to get symbols of high values the Hold option price will likely be greater compared to you trying to get a smaller winning. The value of the Card and Coins symbol is low when you get it only one or two times to appear. But if you have 3 on a line, you'll trigger the progressive jackpot of the slot.
Theme and design
This is a classic slot, and there's no way uh can mistake its theme for another thing, and it is something you'll be able to know just by looking at its name alone. The bug prize is paid by the 7 symbols, then followed by the three Bar, two Bar, one Bar, then the Cards and Coins symbol. You can now form combos with mixed Bar symbols too or with one or two low-value Cards.
Final Verdict
777 isn't a bad classic in general, especially when looking at its 97 percent Return to Players. I also enjoyed its graphics, and that's quite unusual for me to like in a game with three Reels.
Perks
Both critics and players liked it
You can win an excellent jackpot when you try
You only need 10 cents to start spinning
Classic layout
The Return to Players is of the right percentage
Very much fun for players who have a big stack. It has a betini range that's up to 200 euros or dollars.
FAQs
What's the Return to Player of 777 slots?
The Return to Player of 777 is 97.00 percent.
What's an important feature of this slot?
This is a slot powered by RealTime Gaming with three Reels and one winning way. You can play each spin with as little as $/€0.10 with a maximum of $/€200. Payouts are as high as 20000× your wager. The progressive jackpot of 77i is life-changing.
Where will I be able to freely play 777?
Our team created a rating of top online casinos powered by RealTime Gaming. You can select any of the casinos we recommend, then press the "Play Now" button. Some casinos will want you to sign up for an account, while some others don't need you to sign up for an account.
Can I use my tablet or phone to play 777 slots?
Sure, it's developed with HTML5 technology, which makes it totally mobile-friendly.
RTG Casinos