About Six Shot Showdown Slot Machine
Six Shot Showdown Slot Machine is an online video slot developed by Real Time Gaming made up of five reels, no paylines, and an RTP of 91-97%. It has a minimum bet of 0.25 coins and a maximum betting of 125 coins.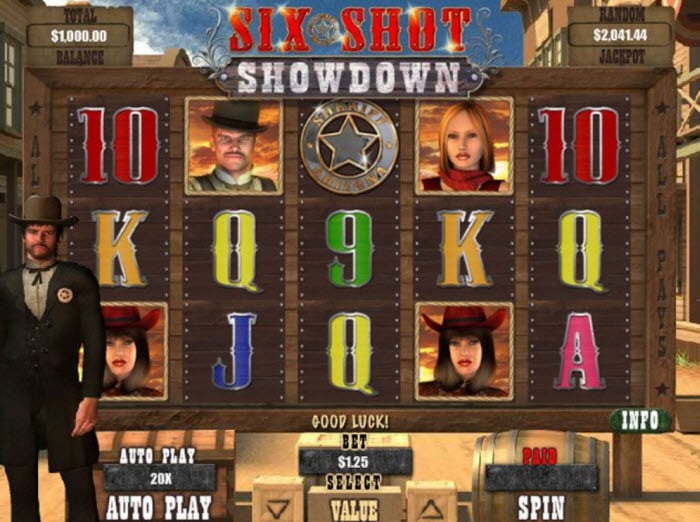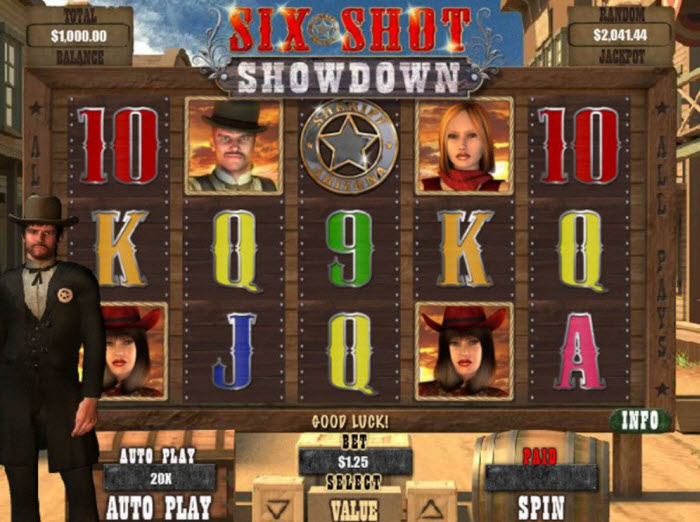 >>Play on Six Shot Showdown Slot Machine
Six Shot Showdown is a slot machine that depicts the western era from Real Time Gaming with amazing designs and exciting features. It is all about shooting the target, and if you are able to, then you will go home with a lot of prizes. It is an online video slot with pictures that depict what is happening in real life, and that is why it is highly rated among the game of slots. The game is made up of two hundred and forty-three means of winning which implies that players can win on this slot in many different ways. There is also a bonus session for players. Want to know more about this slot? Then the review is here to do justice to that.
Gameplay
The first thing to do to win a lot of prizes from this amazing game is by setting up the wager. The slot is made up of 5 reels which contain a frame made up of original wood placed at the middle of the town with a RTP of 91 to 97 percent. There are no typical paylines however; the slot has a contemporaneous two hundred and forty-three means of winning. With this means, players will be able to win many presents but it is not that easy to understand the means unlike if there are paylines. To win players need to make sure similar icons are at adjacent of each other on the wheel.
Also, in this game bet are not placed per spin, instead the player will place a total stake with the least stake being 0.25 coins whereas the highest is one hundred and twenty-five coins. From both players that prefer staking low and those that like staking higher will benefit a lot from this game. In addition, players can get to the kind of thing they can win on this game by checking out the paytable.
Shooting the Outlaws
Another icons the game have that can increase players chances of winning are the wild and scatter icons. The wild can replace any other icon on the reels whereas the scatter cannot but instead can initiate the bonus feature. This bonus will be initiated after getting 3 or above scatters. In this session you are going to make use of a gun, therefore you need to be able to hit target to win big. Here you will be shooting outlaws like up to four and you must make sure to shoot all of them. You will need to position yourself and aim at them one after the other. If a single shot was able to kill one outlaw you will awarded many prizes then unto the next. However, if the first shoot does not take him down, player will only be awarded a little present and another trial. The maximum number of times you can shoot one is 6 but note that they can shoot you if you do not take them down at once and the session will be over.
Other Options
After playing this game and you are interested in more games that have almost the same gameplay then there many for you. One of the most popular game genre in the gaming industry is the action game like Six Shot Showdown slot. Another slot like that is the True Sherrif which is made up of 5 reels, thirty paylines, a bonus and free spin session.
Enjoy the Game
The game is an online slot with the genre being action depicting that of western life. The designs of the game is amazing and layers can win a lot just by gunning down the outlaws. There are no special ways of playing the game; it is simple and easy to navigate through.