Sharky Frenzy Slot Review: Unveiling Big Wins, Features & Player's Guide!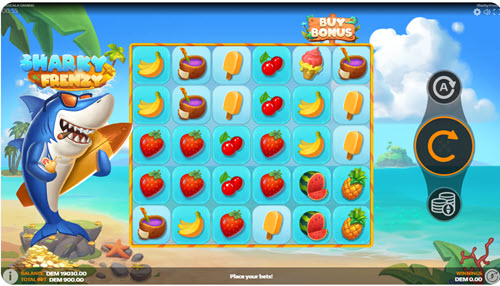 => Play on Sharky Frenzy Slot Now!
Escape to a tropical paradise filled with thrills and treasures with the Sharky Frenzy Slot! This fin-tastic online slot whisks you away to sun-kissed shores, where the warm breeze and gentle sand envelop you in a summer dream. Accompany Sharky, your surfing shark pal, on an aquatic adventure with bountiful features. From cascading wins to juicy multipliers, this game promises a lot of rewards. Dive in to uncover the magic of scatter symbols, tempting buy bonuses, and more in this captivating deep-sea gaming getaway!
Dive into a Summertime Adventure
Sharky Frenzy immerses you in a seaside summertime reverie. Feel the ocean mist on your skin as you stroll down sugar-soft sands, with tropical melodies transporting you to vacation mode. Your wisecracking companion Sharky keeps the good vibes flowing, with his infectious, toothy grin making every spin a delight. With this silly shark by your side, you'll ride the waves to riches through cascading wins and awesome aquatic features.
The game's stunning graphics add to the immersive experience, with brilliant blues evoking the sparkling sea and swaying palms whisking you into vacation fantasies. The reels come alive with juicy fruits and summertime symbols, upping the paradise vibes. Even the gameplay mechanics, like tumbling wins and aquatic multipliers, reinforce the carefree, thrilling escapade. One spin of Sharky Frenzy, and you'll be hooked on this glorious seaside gaming getaway!
Symbols and Gameplay Mechanics
The reels are filled with fruity and aquatic icons like pineapples, coconuts, and seahorses, rendered in vivid detail. But the show's star is the Scatter Shark, which unlocks awesome rewards. The gameplay occurs on a 5×6 grid, with symbols paying anywhere to boost your winning chances.
When you hit a winning combo, the symbols disappear in a cascade, causing new icons to tumble down. This unique avalanche feature allows for multiple consecutive wins within a single spin, making for action-packed gameplay. Any Scatter Sharks collected remain on the reels during cascades, helping you hit more winning clusters for a potential mega payout. With wins raining down across the expansive grid, Sharky Frenzy keeps the rewards flowing spin after spin.
Scatter Symbols and Their Magic
The Scatter Shark is your key to unlocking shark-sized wins. It's time to get excited whenever this grinning shark appears on a reel. Land 4 or more Scatter Sharks, and you'll activate the Free Spins bonus round, where the big fish prizes lurk. The more Scatters you catch, the more free spins you'll receive:
4 Scatters: 10 Free Spins
5 Scatters: 15 Free Spins
6 Scatters: 20 Free Spins
But the Scatter magic doesn't end there. Additional Scatters can appear during the bonus and add extra spins to keep the party going. With every Scatter catch, your reward potential grows. Follow these sharks to seaside riches!
The Allure of Progressive Multipliers
The Free Spins bonus introduces another mouthwatering feature: progressive multipliers. Each tumbling win during a spin boosts your multiplier value, starting at 1x and increasing infinitely! With every cascade, your next big win could be worth a juicier amount. Even Sharky gets excited watching those multipliers rise.
For added multiplier magic, certain Mystery Boxes contain special multipliers too. These randomly award a set multiplier value that gets tacked on to your running total. Coupled with multiplier boxes, a few lucky tumbles can lead to astounding payouts. Will you catch that wave of infinite multipliers?
Dive Deep with Mystery Boxes
Once you enter the Free Spins bonus, colorful Mystery Boxes appear on the reels. These Aquatic boxes are filled with random rewards like:
Extra Free Spins: 1 more spin added to your total
Multiplier Values: Fixed values like 5x or 10x added to your running multiplier
Wild Symbols: Replace regular symbols for more winning combos
Regular Symbols: Help create or extend winning clusters
The boxes that remain after opening don't participate in payouts, but those that disappear can lead to more tumbles and bigger wins. The Mystery Boxes add an extra dose of marine magic, bringing everything from minor rewards to mega multipliers!
The Tempting Buy Bonus Feature
Eager to ride the tidal wave of features but don't have a Scatter shark in sight? Then take the plunge with the Buy Bonus. This lets you instantly access the Free Spins round by wagering 130x your bet. Doing so awards 10 immediately available spins, so you can dive into the aquatic action. It's the fastest way to trigger those coveted cascades and multipliers for a whirlwind of rewards.
Conclusion
With its tropical theme, explosive gameplay, and big win potential, Sharky Frenzy is the ultimate slot for an aquatic adventure. Surf the waves with Sharky to reveal magic scatter sharks, unlocking free spins, rising multipliers, and mystery aquatic rewards. This action-packed and immersive game will have you hooked as wins cascade down the expansive reels. Dive into the deep end of online slots and ride on the wild side with Sharky Frenzy!
=> Play on Sharky Frenzy Slot Now!