Pyramid Pets Slot Review: Can You Unlock Ancient Jackpots & Bonus Secrets?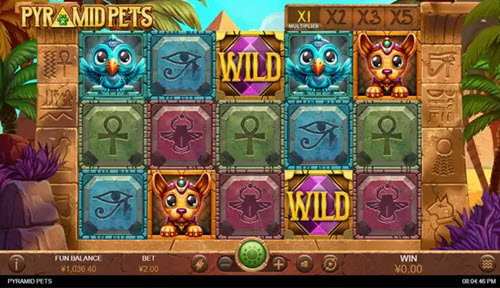 Embark on a journey to unlock ancient jackpots and bonus secrets in the Pyramid Pets slot game. Our review reveals everything you need to know about this exciting adventure.
Journey to the heart of Ancient Egypt with the Pyramid Pets slot game, where mystical creatures and age-old treasures await. Dive into a world where every spin could unlock secrets from the past and bring forth ancient jackpots.
Game Overview
Developed by Real Time Gaming, Pyramid Pets is a 5-reel slot game that beautifully combines the allure of Ancient Egypt with adorable animal symbols. With 20 fixed paylines, players are set on a quest to align symbols like the Eye of Ra, Scarab, and the enchanting Pyramid Paw Print, aiming for the grand prize of 50,000x the line bet.
Graphics and Sound
The game is a visual masterpiece, showcasing a backdrop of Egyptian pyramids and palm trees. Each spin reveals intricately designed symbols, from the majestic Eye of Ra to the playful pets adorned with ancient jewelry. The ambient sound, reminiscent of the Nile's gentle flow and soft desert winds, immerses players in a truly authentic Egyptian experience.
Special Features and Bonuses
Pyramid Pets is not just about its stunning visuals; it's packed with features to enhance the gaming experience. The Cascading Multiplying Wins feature ensures that after a win, the winning symbols vanish, making way for new ones and potentially multiple wins from a single spin. Land three or more Pyramid Paw Print scatters, and you're in for up to 10 free spins, amplifying your chances of striking gold. But the real magic lies in the Pharaoh Multipliers, which can skyrocket your winnings in the bonus rounds.
Betting Range and Payouts
Pyramid Pets offers a flexible betting range, ensuring that both newcomers and seasoned players find their comfort zone. With coin sizes that vary from a modest 0.01 to a more adventurous 0.25, players have the freedom to tailor their bets according to their preferences and strategy. The game allows for a single coin bet per line, culminating in a maximum bet of 6.25. This diverse range means that whether you're a casual player looking for some light-hearted fun or a high-roller chasing the thrill of a big win, Pyramid Pets has got you covered. And the allure of the game doesn't stop there. With the tantalizing prospect of securing up to 50,000x your line bet, the ancient treasures of Egypt beckon more alluringly than ever.
Conclusion and Verdict
Pyramid Pets is more than just a slot game; it's an adventure through time, bringing players face-to-face with the mysteries of Ancient Egypt. Its captivating graphics, immersive sound, and thrilling features make it a must-play for slot enthusiasts. Whether you're chasing the Pharaoh Multipliers or simply soaking in the ambiance of ancient times, Pyramid Pets promises an unforgettable gaming experience. So, are you ready to unlock the ancient jackpots and bonus secrets of Pyramid Pets?