Meerkat Misfit Slot Review – New RTG Real Money Slots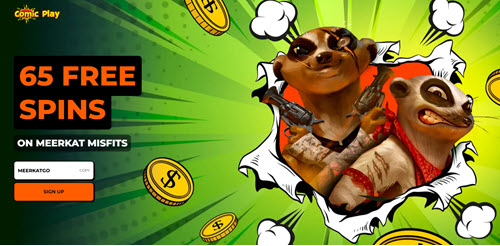 ==>Play on Meerkat Misfit Slot
Meerkat Misfits Slot Guide 2022: Play Online for Free
Meerkat Misfits Slot is one of the coolest slots at the moment. It's available for players who want to play for free in demo mode and also players who want to play with real money and earn. Check it out now.
When you encounter a slot game featuring cartoon monsters impersonating humans exaggeratedly, you know it will be a unique experience. This is the case with RealTime Gaming's Meerkat Misfits, which appears to be on track to set a new record this year by releasing a new title every two weeks. Isn't it true that prioritizing quantity over quality has never been a sensible decision?
RTG has amassed so much experience since its founding in 1998 that they can crank out new titles every week if they so desire. The slot machine in question has a 30 fixed payline gaming board, free spins, and high volatility (low-frequency, maximum size payouts). The player is invited to compete for the ultimate prize of 2000 times the stake (or 4 by 500, see the Playing and Winning section for details). Stay with us for this Meerkat Misfits slot review as the title has a few more surprises up its sleeve.
Visuals
Meerkat Misfits sees Savanna collide with the Wild West for unclear causes (we sometimes wish for some slot games to have real lore and plot). When you first start the game, you will find yourself in enemy territory, surrounded by armed and dangerous mongooses – and it's a lot of fun. Meerkat Misfits does not take itself seriously from the start, allowing parody and simple hilarity to take control.
Mechanics of the Gameplay
There are four Wilds in the game, each represented by a meerkat with a different military rank from Scout to Commander. The multiplier increases from x2 to x4 in the same way. Scatters appear to be quite harmless, doing nothing more than initiating Free Games when three or more appear on the screen.
Winning and Playing
Meerkat Misfits' Free Games are a genuinely unique feature, featuring four ascending stages with increasing payouts. In the first stage, you will get:
A total of seven games (10 on level four);
x1 Wild Multiplication (developed to x4 by the fourth level);
If the feature is retriggered, you will get 7 more games;
Your current bet Level determines how far you travel through the levels. You return to stage 1 if you pass all four (being much more well-off).
While we do not have a single app for smartphones and tablets, we make sure that every new game we add to the catalog is mobile-friendly. All you have to do is open the game in your preferred mobile browser.
Conclusion
Even when they are comically combative, like in the case of Meerkat Misfits, cute creatures are always appreciated in entertainment. When you combine this aesthetic with the good mechanics and gameplay seen in most RTG games, it appears like the developer cannot go wrong with any new title they produce. We anticipate adding more intriguing titles to the inventory shortly. Play Meerkat Misfits for real money at Comic Play Casino to see the little hairy imps in action.
The Bitcoin casino market is booming, with more and more service providers joining every day. Comic Play is one of the most intriguing operators in this burgeoning market.
This online casino's name seems to imply that it will provide an exciting experience. However, before you sign up, it is a good idea to learn everything you can about it.
We conducted a full investigation of the gambling site to assist you in this process. The bonus structure, software providers, free spins for new users, games, regulatory status, and pros and negatives are all included in our assessment.
==>Play on Meerkat Misfit Slot