Mamma Mia 2D Slot Review: Free Play and Bonuses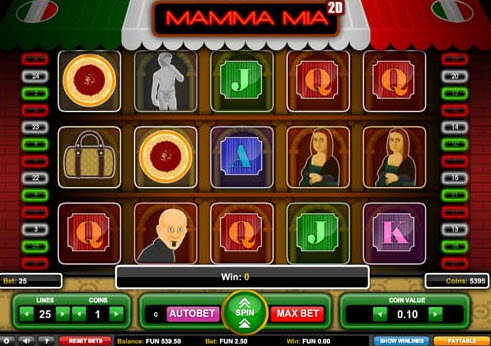 Read our review of the 1×2 Gaming-developed Mamma Mia 2D video slot or play the demo version for free right now! Click here to get to the website!
Game Info
Software: 1×2 Gaming
Release Date: Jan 1, 2014
RTP: 97%
Volatility: None
Paylines: 25
Reels: 5
Coins Per Line: 1-5
Coins Range: 0.01-0.5
Slot Types, Themes & Features: Video Slots, Penny Slots, Flash Slots, Mystery, Wild Symbols, Multiplier Symbols, Free Spins
The Mamma Mia 2D video slot is a mystery-themed production by 1×2 Gaming that was influenced by the Italian way of life. There will be pizza, trendy handbags, the statue of David, the Mona Lisa, and other classic Italian themes interspersed across the grid of five reels. At first glance, the layout seems to be straightforward, with some childlike animations. However, upon closer inspection, it becomes evident that tremendous attention has been paid to the smallest things. Mamma Mia 2D is a low-cost video slot that players can enjoy regardless of whether they are big rollers or novices since it provides gratifying spinning rounds even at lower stakes than most other slot machines.
We're not sure whether the mysterious person who appears in the Bonus Spins logo is planning a heist at the nearby renowned museum, but one fact is certain: 1×2 Gaming has managed to impress its fans yet again by presenting a distinctive slot to the marketplace. More products from their library are games such as Celebrity in the Jungle and The Da Vinci Device if you're interested in learning more.
How Do You Play the Mamma 2D Video Slot?
Mamma Mia 2D invites players to a grid consisting of five reel sets, 25 active paylines, and three rows. The game has a return to player percentage of 97 percent, which is fairly good. This game is classified as a medium volatility slot since it is capable of producing large winnings on a consistent basis, but the payouts are less in magnitude when you compare it to an online slot of higher volatility. Before pressing the button for spinning, it is a smart option to use them and > controls at the bottom of the reel set to adjust the betting amount to meet your specific requirements. Lucky for you, there is also a very large range of stake amounts available, ranging from a low point of 0.25 to a high point of 62.50, which will accommodate everyone from low rollers to casual gamers alike.
The features of the Mamma Mia 2D video slot
Graphics: The visuals are pleasant, and the graphics have been crafted in a distinct cartoonish manner. In addition to some fairly great 3D graphics and animations to signal each victory, spinners will discover a brilliantly built slot game behind the surface simplicity of the game.
Theme: At a time when the market is saturated with popular themes, Mamma Mia 2D offers something new and refreshing. The entire theme is based on how people live in Italy, with prominent icons such as the statue of David and the renowned painting of Mona Lisa included throughout.
Audio: In terms of audio, the noises fluctuate from soothing Italian songs to crazy ambient noises for each game trigger or victory celebration, which is a lovely addition to the overall concept. Perhaps the most pleasing aspect is that the soundtracks do not become too distracting with time.
Bonuses on the Mamma Mia 2D video slot
It is also rather straightforward when we are talking about the inclusion of extra features in Mamma Mia 2. Although it really has some interesting elements, they are not the type that persistently interferes with your gameplay; rather, they seem to liven things up, deliver you greater winnings, and then disappear, allowing you to continue spinning as usual. The following are the extra features that are currently available:
Free Spins: This feature is activated in the traditional fashion by landing a minimum of three Scatter symbols on any winning line. Because of this, the quantity of free games granted is determined by the number of icons that activated the feature, with three, four, or five triggering five, ten, or fifteen free games, respectively.
Wild Symbol: All icons, with the exception of the Free Spins icons, are substituted by the wild symbol, which is represented by a red luxury automobile. When assisting in the creation of new winning combos, the Wild must always replace the highest paying icon that is available.
Using Your Mobile Device to Play Mamma Mia 2D Video Slot
Mamma Mia 2D was made possible thanks to the use of Flash software. Thus, you can effortlessly enjoy it on a variety of devices like desktop computers, laptops, mobile phones, and tablets while still enjoying the same entertaining Italian adventure. No changes are required (except for a reduction in screen size), and the game may be played from any location with a connection to the internet that is reliable and fast.
You may win actual cash by playing the Mamma Mia 2D online slot.
When it comes to playing Mamma Mia 2D, you have three alternatives. On our website, you have the option of playing it for free in free play mode, checking out the gambling websites in our Actual Casino.info area and selecting one to play for real money, or trying both. Practicing both is the ideal choice since once you've played for free, you will have a deeper understanding of what to anticipate and will have a better shot at winning when you move to actual cash play.