Kats Casino No Deposit Bonus: 120 Free Chip Here!
Kats Casino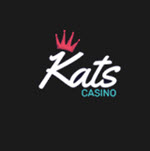 120 Free Spins
Kats Casino
Software: Realtime Gaming
Banking: Visa, AMEX, Mastercard, Bitcoin
---
Discover the ultimate online gaming destination! Kats Casino Review reveals the best games, bonuses, and player experiences. Get ready to win big!
In the ever-evolving world of iGaming, Kats Casino emerges as a noteworthy contender, catering especially to players from the USA and Canada. With a robust portfolio powered by industry giants like Real Time Gaming and Spinlogic Gaming, this casino promises an immersive gaming experience.
Whether you're a seasoned gambler or a newbie taking your first steps into the digital casino realm, Kats Casino offers a blend of classic favorites and innovative games, ensuring every player finds their niche. Moreover, with enticing bonuses and a loyalty program that echoes the glamor of Hollywood divas, it's clear that Kats Casino is not just about games; it's about crafting a holistic gaming journey for its members.
Casino Essentials
Kats Casino has positioned itself as a go-to destination for iGaming enthusiasts, especially those hailing from the United States. With a minimum deposit set at $35, players can dive into a world of gaming excitement. However, it's worth noting the withdrawal limits, which stand at $100 for Bitcoin users and a slightly steeper $500 for those opting for wire transfers. The cashout time varies depending on the method chosen, with Bitcoin transactions taking between 4-7 business days and wire transfers stretching to 7 to 10 business days. The weekly cashout limit is capped at $2,000, ensuring players have a steady flow of their winnings.
The casino operates with two primary currencies, USD and BTC, catering to both traditional and crypto-savvy players. With a game library boasting 278 titles, Kats Casino relies on renowned software providers like Real Time Gaming and Spinlogic Gaming to deliver a top-notch gaming experience. Whether you're on Android, iPhone, iPad, or other mobile devices, the casino ensures a seamless gaming journey. While live games are currently off the table, the platform compensates with a responsive live chat feature, ensuring players' queries and concerns are addressed promptly.
Bonuses and Special Offers
Diving into the world of Kats Casino, players are greeted with a plethora of enticing bonuses and promotional offers designed to enhance their gaming journey. Right from the outset, new members can take advantage of four introductory offers: a warm welcome in the form of a free chip, a generous bonus package spread across multiple deposits, delightful happy hours, and an exclusive Amex promotion.
But that's not all; as players immerse themselves deeper into the Kats Casino universe, they can enroll in a distinctive loyalty program spanning five tiers. Each tier, intriguingly named after iconic Hollywood divas, unlocks a realm of benefits. From comp points and monthly insurance to prioritized payouts and tailored deposit bonuses, the rewards are both varied and substantial. Whether you're a casual gamer or a high roller, Kats Casino ensures that your dedication and loyalty are aptly rewarded.
Banking and Transactions
Navigating the financial waters of online casinos can be a daunting task, but Kats Casino aims to simplify the process for its players. When it comes to making transactions, Kats Casino extends beyond the traditional debit/credit card methods. Players have the flexibility to top up their accounts with Bitcoin, joining a growing community of crypto enthusiasts who enjoy swift payouts. This digital currency option not only ensures transactions are completed within minutes but also offers a layer of anonymity that traditional banking methods might lack.
However, potential players should be aware of a few key points. The minimum withdrawal limit set by the casino is notably high, and while the maximum weekly payout might seem on the lower end, it's essential to factor this into your gaming strategy. Additionally, while Bitcoin transactions offer many advantages, the fees per transaction can be relatively high. It's always recommended to familiarize oneself with the casino's payment policies and terms to ensure a smooth gaming experience.
Games Galore
At the heart of Kats Casino lies an impressive assortment of games, powered predominantly by the renowned Real Time Gaming (RTG) and Spinlogic Gaming. With a collection that boasts over 220 titles, players are presented with a golden opportunity to dive into some of the most sought-after games in the iGaming world. From the enchanting spins of slots like "Bubble Bubble 3" and "Count Cashtacular" to the strategic allure of table games such as baccarat and blackjack, there's a game tailored for every enthusiast. And for those with a penchant for video poker, offerings like "Deuces Wild" and "Joker Poker" promise to keep the adrenaline pumping.
But the gaming experience at Kats Casino doesn't stop at the desktop. Every title is optimized for mobile play, ensuring that players can indulge in their favorite games, whether they're lounging at home, enjoying the outdoors, or on the move. The casino's commitment to providing a seamless gaming experience, irrespective of the device, underscores its position as a top destination for players seeking both variety and convenience in their gaming journey.
Mobile Gaming Experience
In today's fast-paced digital era, the ability to game on the go is paramount, and Kats Casino has risen to the occasion. Tailored specifically for players from the USA and Canada, Kats Casino's interface is meticulously designed to offer a seamless gaming experience across various mobile devices. Whether you're using an Android, iPhone, iPad, or any other mobile device, the casino's platform effortlessly adapts, ensuring that players never miss out on the action. The graphics remain crisp, the gameplay smooth, and the overall experience is just as immersive as on a desktop.
Moreover, once you're registered through your mobile device, the entire gaming world of Kats Casino is at your fingertips. Players can easily access a diverse range of games, from slots to table games, all optimized for mobile play. Additionally, the convenience doesn't stop at games; the platform also offers multiple payment options, making deposits and withdrawals a breeze even when you're on the move. In essence, Kats Casino's mobile gaming experience promises not just convenience but also a high-quality iGaming adventure wherever you are.
Conclusion
Kats Casino has positioned itself as a notable destination for iGaming enthusiasts, particularly those from the USA and Canada. With a robust RTG portfolio, the casino promises a fulfilling gaming experience around the clock. Whether you're a slots aficionado or a table games enthusiast, there's something for everyone.
Moreover, the casino's commitment to player satisfaction is evident in its diverse promotions and loyalty program. However, as with any online platform, players must familiarize themselves with the Terms and Conditions. Dive in, explore, and may your gaming sessions at Kats Casino be both thrilling and rewarding!