Jack Frost Slot Machine
This is an amazing game by Rival Gaming, and it's about a battle for control over the weather.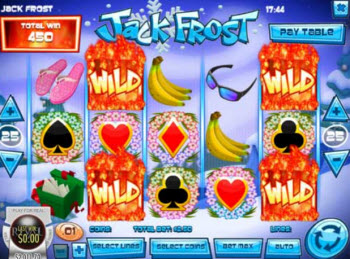 >>Play on Jack Frost Slot Machine
There is a battle between Harold Heat and Jack Frost as they are two brothers having the ability to join the winter and summer together. There are lots of interesting actions that you can enjoy in the process of playing the game. The appearance is going to make us to be rooting for winter.
The gameplay is quite amazing on the 5 reel slot with 25 active paylines. The major features include the sticky wilds, free spins and bonus game. What is interesting about this is that the payout is quite impressive as you can get up to $31, 250.
Betting & Prizes
This kind of betting system is what we have actually seen in the past, so this is not so surprising. The players are the one to exercise control on the reels as you can select up to 25 active paylines making use of the coin that ranges from 1 to 10.
What you can only get is 500x of the amount that you have invested, and there are some other symbols features that can help you improve your gameplay.
The RTP rate of the game is the only discouraging part as it is just 94.26%.
Slot Features
It clearly display two characters clearly representing the cold and warmth. There are drop symbols during some rounds in the based game, the moment they show, there will be the disappearance of the winning symbol.
The wild symbol is the cold wind, and it can be used as part of the various combinations used for making big wins.
The sticky is the tropical, and it can only make its appearance in the cause of enjoying the free games. The sticky remains there and give you re-spins as they contribute to the winning combinations.
When the Harold Heat (scatter symbol) appear three times, it can earn you up to 20 free spins.
Ice block bonus is the last symbol, and it gets the players greatly rewarded.
Design & Theme
This is actual about a battle between Harold Heat and Jack Frost. You will be able to get free spins, and there are lots of symbols in the game, it depends on whether you are in tropical vacation or winter mode. Looking at the free spins, you can get the winter hats, baseball, sunglasses, beach slippers, bananas.
Conclusion
There are lots of amazing features to be enjoyed on this game, the RTP does not seem to be interesting as the RTP is 94.26 which is way below the industry standard.
FAQs
What are the options?
Rival Gaming is the software provider, the RTP is 94.26%, and the bet ranges from 0.01 to 62.5.
Where can I play the game?
It can be played on the casinos that we have recommended on our website.
Is it compatible with mobile phones?
Yes it is