Fire & Steel Slot No Deposit Bonus ($20 Free Chip)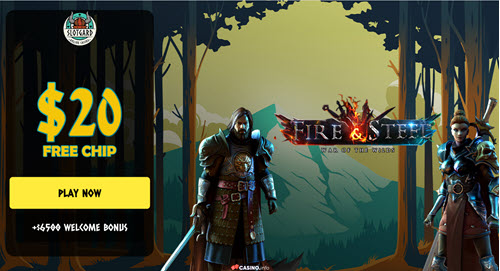 => Play on Fire & Steel Slot Now!
Ever imagined mixing fiery fun and cold steel in an epic online slot battle? Here's your chance! Enter the world of Fire and Steel, a captivating online slot game with a unique pyramid-style layout. Set in a medieval age, the game intricately weaves a riveting tale of two noble houses clashing. Boasting non-standard reel arrangements and symbols like swords, shields, and warriors, Fire and Steel sets the stakes high for every slot enthusiast.
Game Layout and Paylines
Fire and Steel is anything but typical. With a unique 5-reel, pyramid-style layout, it serves up an exciting gaming landscape. The first and last reels feature three positions, while the second and fourth reels offer four. The middle reel, however, ups the ante with five positions. This setup presents 20 paylines, allowing you to win from left to right or right to left, defying traditional rules.
This game's wealth of symbols adds extra flavor to the gameplay. Symbols like gemstones, goblets, swords, books, helmets, shields, and crowns can align to seal your victory. Also, wild symbols jump in to replace other symbols, increasing your chances of landing a winning combo.
Special Features
Adding more sizzle to the game are three wild symbols – the standard wild and two warrior characters, the Swordsman and Shieldmaiden. The standard wild plays the traditional role, replacing other symbols to complete winning combos.
The Swordsman and Shieldmaiden, however, bring unique abilities into play. The Swordsman, with his razor-sharp blade, transforms symbols either above or below him into wilds. Using her staunch defense, the Shieldmaiden turns a line of symbols to her left or right into wilds. Their extraordinary powers significantly increase the possibilities of striking a winning combination.
Strategies for Big Wins
Unraveling the complexities of Fire and Steel is key to unlocking big wins. Understanding the special features, particularly the wild symbols, and their functions, can give you a significant advantage. If used cleverly, the Swordsman and Shieldmaiden's abilities can pave the way for massive wins.
Furthermore, focusing on high-value symbols like shields and crowns could yield larger rewards. Also, remember that games with smaller jackpots tend to pay out more often, making them an ideal choice if frequent winnings are your goal. Harnessing the power of scatter symbols can also lead to big wins. As with any game of luck and chance, always gamble responsibly and remember to cash out when you hit it big.
Conclusion
Fire and Steel is an online slot game that masterfully combines an inventive layout, immersive gameplay, and the potential for big wins. The Swordsman and Shieldmaiden, with their unique abilities, inject a dose of adrenaline into every spin. Thus, it's time you experienced this thrilling saga. Pick your house, place your bet, and let the game of Fire and Steel guide your journey to potential riches.