Choy Sun Doa Slots Machine: Should You Play Here?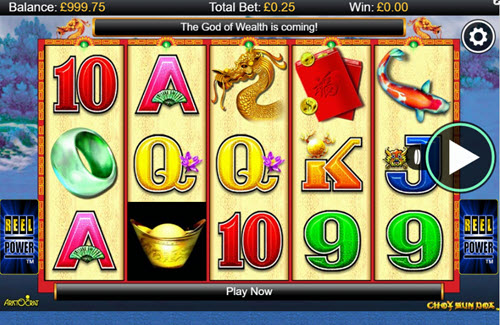 Choy Sun Doa is one of the top slots by Aristocrat Technology. The name of this slot machine simply means the God of Wealth or Prosperity, which offers big wins just like its name says.
Choy Sun Doa, like the popular Five Dragons, Queen of Nile, and Lucky Count, is one of Aristocrat Technology's best slots. The name translates to "God of Prosperity" or "Wealth," and it promises enormous wins in keeping with its name.
It has a large oriental theme and employs the manufacturer's Reel PowerTM technology, which gives you 243 chances to win. The game can be played both online and offline, and the gameplay is identical in both, making switching between them a breeze. An unofficial Choy Sun Doa app for Android smartphones running version 2.2 and higher is available on Google Play.
Choy Sun Doa has both free and paid features.
Aristocrat's standard five-row and five-column reels are used in Choy Sun Doa. There are three symbols on each reel, and there are 25 credits to play across all reels, for a total of 243 lines.
The Player's Choice Free Spins Bonus round is also available when playing the Choy Sun Doa slot, just as it is when playing the Five Dragons game. When the bonus function is activated, the machine allows you to select the number of free spins and multipliers you want. As a general rule, the more free spins you choose, the lower the possible multipliers become.
With 1000 credits and a 30 times multiplier, the largest wins are possible. If you like to take chances, the other option of 30,000 credits comes with only five free spins. The bonus rounds are where this slot's highs and lows are found.
While you could decide to play "safe" with say 15 free spin games, certain other combinations of big multipliers could put a lot of money in your pockets. In online casinos, the Choy Sun Doa predicts Return to Player (RTP) of 95 percent.
Bonus Games
The scatter symbol on the Choy Sun Doa slot is a gold ingot, which activates the extra feature. Choy Sun Doa – the central character is the wild symbol, which substitutes for all other symbols except the scatter symbol to form a winning combination. Choy occurs only on the second, third, and fourth reels during the bonus feature to multiply wins.
The extra feature awards free games, however, it must be triggered by at least three gold Ingot symbols. Symbols are matched from left to right and pay regardless of where they appear on the reels.
If you get three gold ingots from left to right on the reels, the slot will give you a choice of multipliers and free games. Choy can substitute for other symbols to form a winning combination when he appears on reels two, three, or four. This activates the game's multiplier feature.
Within the bonus feature, the game allows you to re-trigger the free slot games bonus round. If you succeed to activate another free spins bonus round while playing a bonus feature, Choy Sun Doa will need you to complete the current bonus round before offering you a new set of possible multipliers based on the number of free games you have earned. You play the second set of free spins generated during the first bonus round after making your decision.
New Versions and the Sub Bonus Feature
A small sub bonus function is also included in the game, which is rather promising. A random bonus multiplier is triggered when the red packet appears on reels one and five.
Your total credits multiply by 2 times, 5 times, 10 times, 15 times, 20 times, or 50 times. A gamer who wagers 25 credits can win up to 1,250 credits.
The Choy Sun Doa was followed by the Choy Sun Returns, which was released by Aristocrat. The graphics, art, and game play are very identical to the original Choy Sun, with the exception that the newer version includes the five-credit ante bet that Choy Sun Doa's predecessor, the Five Dragons slot machine offers.