Buffalo Slots: How to Play Here and Earn Real Money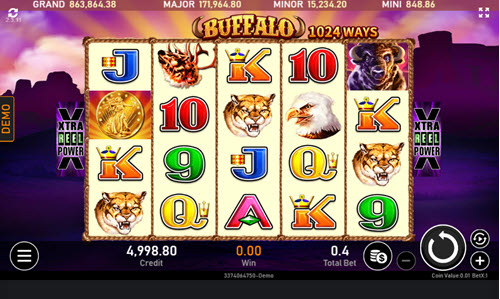 Buffalo Slots is one of the top slots for casino players. It used to be available for online offline players, but they've now created an online version. Try it out now to see for yourself.
Buffalo is one of the most popular slot games ever created. This popular land-based slot game is now also available to play online.
To win, you must fill the screen with Buffalo symbols, which is a fast-paced and exciting game. This game is part of Aristocrat's Xtra Reel Power feature, and there are 1024 ways to win in this no-paylines slot game.
Buffalo slots may be played for free or for real money on the internet. Before you go for the real money version, you may test out the free version to get a feel for the game. However, avoid becoming addicted to the free games, as a screen full of buffalos might cost a small fortune to you!
How to Play the slot game
Combinations on the paylines made from left to right pay out in this game. Players can select a coin denomination ranging from one cent to two dollars. In this thrilling slots game, you can win a lot of money by placing a bet. This game is presently inaccessible for mobile devices and can only be played at a land-based casino or online. Here, the payout percentage is 94.85.
Overview of Features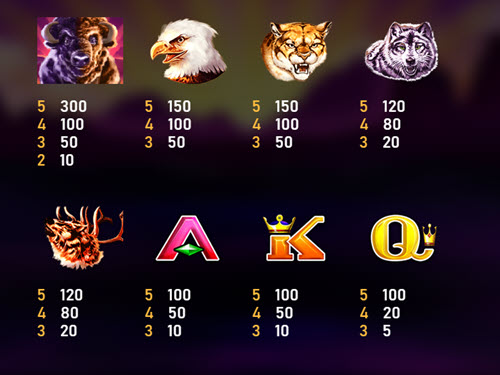 In this slot game, there are 1024 chances to win. The symbols pay in a left-to-right sequence regardless of their location on the reels. In this game, the buffalo symbol pays the most. Every time the symbol appears on the screen, a man yells "Buffalo!" This symbol is stacked and may show on the same reel numerous times.
It's even feasible to get a Buffalo symbol-filled screen. This situation pays out quite well, and if all five reels are loaded with four Buffalo symbols each, you may expect enormous payouts. With the winnings, the Buffalo symbol can make you a very happy person!
In this game, the sunset symbol serves as the wild sign. Except for the scatter symbols, which are represented by the gold coin symbol, this symbol can replace any other sign. Only the second, third, and fourth reels include the sunset symbol. Wild symbols can also substitute for Buffalo symbols, making them crucial in helping you win the game's massive payouts.
When the wild symbol appears in the free spin rounds, it also multiplies wins.
The scatter payment is obtained by landing three or more gold scatter symbols on the reels. To qualify for a reward, the symbols can appear anywhere on the reels as long as there are at least three of them on the screen. Scatter symbols also launch the free spins bonus feature.
Bonus Games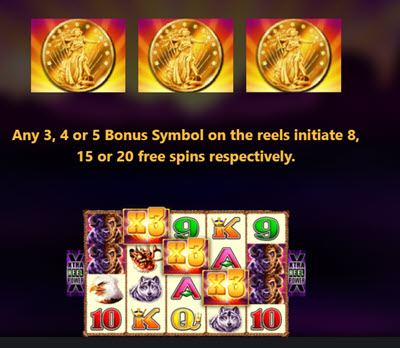 The free spin bonus rounds are triggered when three or more gold symbols appear anywhere on the screen. For three, four, or five scatter symbols on the screen, you will be awarded 8, 15, or 20 free spins.
On the same reels as the regular game, the free spin round is played. Two additional features are available in the free spin feature that is not available in the Buffalo base game.
Landing two scatter symbols on any of the reels awards you with five free spins.
The overall win is multiplied two or three times by the sunset wild symbols. Landing three or more scatters on any of the reels will retrigger the free spin round.
Overall, Aristocrat's Buffalo slot is a classic slots game that has become a mainstay in land-based casinos around the world. You can play this game at any land-based casino or online to take your chances and win big!
Return to Player (RTP)
At online casinos, we recommend only playing slots with an RTP of 90% or more. Buffalo offers a 94.58 percent RTP, making it a good option for real money wagers. Consider starting with lesser wagers because this is a low-medium volatility slot. This can help you decide whether to increase your bets or move to a slot with a higher RTP.
Bonus Spins
Free spins are the most common – and, dare we say, most popular – bonus round on slot machines. Part of this is because they frequently unlock a slew of other features as well. Buffalo's free spins are an excellent example. You can earn 8, 15, or 20 free spins if you hit 3, 4, or 5 scatter symbols in the base game.
These free spins also come with multiplier symbols that can double or even triple your winnings, for a total multiplier bonus of 27 times. These free spins also contain a retrigger function, which means that if you get three or more scatters during a free spin, you'll get an extra five free spins.
Paylines
The lack of traditional paylines is one of the reasons Buffalo has stayed so popular. While conventional 5-reel slots offer 20 or 25 paylines, Buffalo uses an XTRA REEL POWER technology that allows players to select the number of reels they want to activate. The more reels they choose, the more winning combinations become available. On Buffalo, if you play all five reels, you'll win a jackpot.
Highest Reward
The Buffalo, unsurprisingly, is the highest-paying symbol in the game. The biggest payoff when playing Buffalo, according to the paytable, is 300 coins, which you will win if you hit five Buffalo symbols. This is true both in the regular game and during the free spins round. If you are extremely lucky, you might get five buffalos and one or more sunset symbols during your free spins, which will triple your winnings.
Maximum Bet
On Buffalo, you can place a total stake of up to 400 USD. If you wish to make this wager, there are a few things you should do before spinning the reels. To begin, make sure that all five reels are turned on. Second, multiply the smallest minimum bet allowed on five reels by ten increments, which is 0.80 on Buffalo.
Minimum Bet
On Buffalo, the minimum bet is 0.02, which is then compounded by a reel fee that increases as more reels are activated. If you play on reels, your minimum bet remains 0.02, but if you play on two reels, your reel cost increases to 5, and your minimum bet increases to 0.10. Your reel cost is 10 and your total bet is 0.20 if you engage three reels. The reel cost on four reels is 20 for a minimum wager of 0.40, while the reel cost on all five reels is 40 for a total minimum bet of 0.80.
Features of the Buffalo slot
The Buffalo Slot has 5 reels and 3 lines with a total of 1024 ways to win. The software provider is Aristocrat. There are no Wild symbols, and Multiplier available. There are free spins and bonus rounds available. The return to player percentage is 94.58 percent. The Scatter Symbol is coin. No jackpot(s) and autoplay available. The highest payout is times 300. The minimum and maximum bets are 0.02 and 400 respectively. Volatility is from low to medium.
Frequently asked questions (FAQs) of the Buffalo slot.
Is it possible to play Buffalo for free online?
Yes! Here at Casino.info, you may play Buffalo for free. You will not be required to register or download anything. Simply open the game on your browser and begin spinning the reels right away.
What are the benefits of playing the Buffalo slot machine?
Buffalo is one of the most popular free slots available, and many players consider it an all-time favorite. The game is part of Ainsworth's XTRA Reel Power line, which means you can win in up to 1024 different ways. Multiple free spins cycles and stacked buffalo symbols might help you win big while playing.
Is it possible to play Buffalo for real money?
Obviously. At our top real money casino sites, you may play Buffalo for real money. Playing for real money allows you to earn real money, and joining one of our casinos comes with a generous welcome bonus. This bonus can be used to play more popular slots and a wide range of casino games.
How can I make a fortune playing Buffalo slots?
When you land five buffalo symbols on the reels on the Buffalo slot, you can win up to 300 times your investment. This symbol is likewise stacked, and if all five reels are loaded with four buffalos apiece, you will win big. The Free spins feature can also in some impressive rewards, with total wins having the potential to be multiplied by up to 27 times.