Arabian Tales Slots Review (Rival)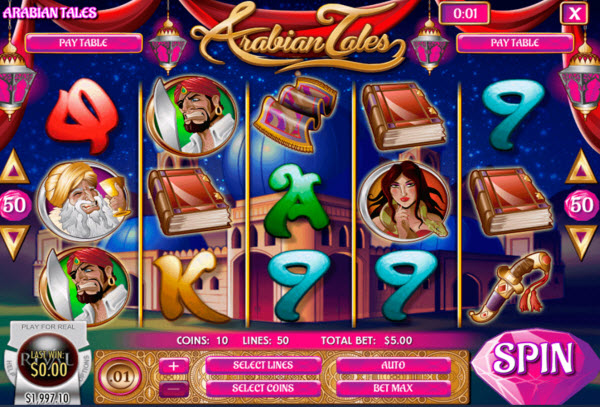 One of the slot machine that has rival gaming as its software developer is Arabian Tales which is a game that encapsulates an Arab country. The slot is made up of five wheels and it has a theme that resembles Aladdin due to the numerous amount of voodoo icons. The graphics and designs of the game are topnotch. It is made up of a lot of bet lines therefore giving players more opportunity to cash out massively. The gameplay is simple, clear, and precise with no problem during navigating. The players only need to spin the wheel by clicking the spin button and hope to land a winning combination. The number of pay lines in which the winning combination can occur is fifty and the pay table determines the payouts. Based on the pay tables winnings are determine from the left hand side to the right hand side. The overall winning will be made up of the multiplication of your coin value and the overall stake you placed. The coin value is constant therefore there is nothing you can do to affect it. The only factor that can affect your winning is the total amount you used to bet. Every functions you will need to carry out has its own key well shown on the screen. You can adjust the amount of coins you want. There is auto spin button that allows spinning to be done automatically during the free spins session. There is another button for adjusting the amount the players want to stake also. To cash out big you can click on the maximum stake button.
The game also contain some icons such as flying carpets, books, normal cards such as nine, ten, A, J, K, and Q, and also a captivating storyteller. Landing each icons will predispose players to a certain amount of winning and the pay line. There are other special icons that affect the players winnings also. One of those icons is the wild icon which has the largest winning and can be substituted for any other icon on the wheel. During the free spin session, the effect of the icon can last for a long time. Players will also be awarded a multiplier of times two for landing the icon. Another unique icon is the scatter and landing at least three of such icons will activate the free spins session. Players will be awarded twelve, twenty five, or fifty spins for free based on the number of scatters landed. Other icons include the jackpot icon with which players can increase their winnings massively and so on.
Arabian Tales Slot is an amazing game from rival gaming with unique graphics and designs. You can check out for other games from rival gaming in case you want to play games with the same or different themes.