7 Chakras Slot Review: Online (Saucify) Slots Real Money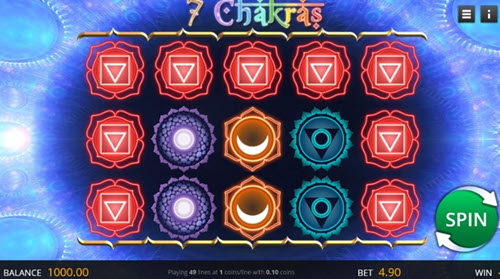 7 Chakras Slot is a game powered by Saucify that unveils a meditative way to align the spirit, body, mind and wins. Check out this guide to get a detailed assessment of promos, bonuses, and more.
7 Chakras was released in July 2018. Its service provider is Saucify.
Developed by: Saucify
Common Name: Video Slots
Branded Name: 7 Chakras
House Advantage: 4.12 percent
Live Dealer: No
Progressive: No
Maximum bet: s 0
Maximum Win: x 250
Minimum bet: s 0.00
Subcategory: Video Slots
Main Category: Slots
SPECIFIC PARAMETERS
The Slot Type is Video Slot. The slot has 49 paylines and 5 reels.
The minimum Coin Size is 0.01 and the Maximum Coin Size is 2.
The minimum and maximum Coins per Line are both 1.
Symbols Rows: 3
Advertised Jackpot: 0
Reel Configuration: 5×3
Payable Symbols: 7
Bonus Games: 1
Free Spins: 5
Wild Symbol: 1
Free Spins Max Multiplier: 0
Multiplier: 0
Wild Max Multiplier: 0
Scatter Symbol: 1
There is no Gamble Feature.
There is Autoplay available and the maximum Autoplay Spins is 100.
Theme: Asian and Culture
REVIEW
Saucify's 7 Chakras slot machine is undoubtedly the most relaxing approach to winning money in online games. The title, which combines peaceful music with Chakra philosophy symbols, offers players to collect stacked Wilds for doubled wins and free spins with multipliers. Explore the spiritual and economical rewards of the reeled release by diving deeper into its vibe. For more information about payments and features, read the review. Here are some of the greatest online gambling sites where you may play for real money. Get more ideas from the publications' bottom part, which lists many comparable reeling machines.
The non-progressive video slot's official release date is July 18th, 2018. The game is produced by Saucify, which is a well-known software developer with a massive portfolio of created entertainment. Beat Bots, Plant Emporium, and Traces of Evidence are just a few of the company's numerous blockbusters. There are over 100 titles under this label in our database, so feel free to look around.
Tip: Cash matches on multiple first deposits, as well as free spins, are among the studio's most common welcome promotions.
The ancient study of chakras, potent sources of energy that should be aligned in us, is revealed in the reviewed release. Red root, yellow solar, orange sacral, purple third eye, green heart, blue throat, and pink crown are the chakras involved. On the grid, all seven of the colors are represented. They can be balanced in another emblem, which depicts a man in a lotus stance, which is the traditional way of balancing the mind, body, and spirit while also opening all seven chakras. Participate in the meditation and reap the benefits of reel spinning.
Paytable Explained:
Bet on one of 49 win lines that span five reels and three rows. Examine the seven ordinary and one special icon's potential wins. Because it permits both low and high stakes per rotation, the machine will suit the needs of a wide range of players.
Tip: If you want to view additional alternatives for specific betting ranges, change your search filters to include more games and see what our site has to offer. The following are the advantages of permitting particular chakras over the entire win line:
Begin at the bottom. Win up to 20 coins by connecting to the root.
Score 30 coins by following the path up the sacral chakra.
Benefit from 35 coins by activating the sun point.
Find the heart chakra, which is worth 40 coins.
Collect 60 coins by working your way up to the fifth chakra, the throat chakra.
For a 100-coin reward, open the third eye.
Win 250 coins by reaching the crown of your head.
Bonus games:
The lotus-sitting Wild is piled with two icons. Furthermore, if it acts as a substitute in a winning combination, it doubles the prize. This unique symbol will not pay off by itself. Ascension-free spins will be awarded once your chakras are aligned along the spinal chord. There are up to 36 of them to be won, with astounding multipliers of up to 7 times!
The Best Casinos to Play 7 Chakras Machine At
Here are a few places where you can find the reviewed release:
Grand Rush is a famous gambling location among players. The website has earned its online credibility and has a high percentage of favorable evaluations thanks to its many years of expertise and two solid licenses.
Juicy Vegas Casino  first opened its doors in 2009, following the rules and regulations of Curacao. The only language adaption is English, although there are over five other currencies to pick from. The planet is part of an established network, follows Curacao regulations, and offers content in three languages. Round-the-clock customer service, cashable bonuses, and a wide range of deposit and withdrawal currencies are just a few of the advantages.
The Malta Gaming Authority and the United Kingdom Gambling Commission both license and regulate High Roller. It is one of the newest venues to gamble and win, but its registered members have already given it favorable feedback.