Jupiter Club Casino No Deposit Bonus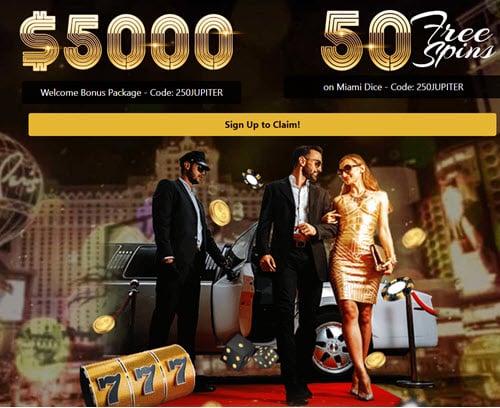 => Play at Jupiter Club Casino
Jupiter Club Casino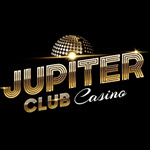 50 Free Spins
Jupiter Club Casino
License: Curacao
Banking: Neteller, Paysafe Card, Visa, Skrill, MasterCard, EcoCard, Bitcoin, Litecoin, Bitcoin Cash, Ethereum, Tether
Jupiter Club Casino burst onto the iGaming scene with a flair that's hard to ignore. Established in 2002, it promised players "the funkiest games to get in the winning groove." And boy, did it deliver! With a vibrant purple interface and a disco ball that seems to shout, "The party's just getting started!" one can't help but be intrigued.
But it wasn't just about the glitz and glamor. The casino proudly showcased its accolades, boasting of having paid out over $8 billion and clinching the Player Choice Award in 2019. Such achievements are no small feat in an industry teeming with competition.
However, every party has its hiccups. Jupiter Club's association with the Grand Prive Group brought its share of challenges. The group faced accusations of unfair business practices, poor support, and slow payments. But like any good host, Jupiter Club acknowledged its missteps and took strides to improve. Today, it stands as a testament to the fact that, with dedication and the right changes, any establishment can turn its fortunes around.
So, as we dive deeper into this review, let's uncover the games, bonuses, and insider truths that make Jupiter Club Casino the talk of the town. Whether you're a seasoned player or a newbie looking for the next big thing, this is one party you won't want to miss!
=> Play at Jupiter Club Casino
Game Selection at a Glance
A kaleidoscope of virtual entertainment awaits at Jupiter Club Casino, where the digital reels spin with hunger and the tables beckon with a promise of luck. The casino, in its vibrant digital halls, hosts a myriad of games, ensuring that every gambler, from the seasoned veteran to the curious novice, finds their niche of excitement and potential fortune.
Dive into a universe where three prominent gaming studios, Betsoft, Saucify, and Rival, converge to offer a stellar gaming experience. These titans of the iGaming world bring forth a plethora of options, marrying classic charm with modern flair, ensuring the gaming library is both extensive and eclectic. From freshly minted slots to timeless table games, the selection is not merely a collection but a carefully curated gallery designed to enthrall every visitor with its diversity and quality.
Slots lovers will revel in the myriad of options available, whose themes range from the enchanting to the exhilarating. Titles such as "Cash Vegas" and "Spirit of the Wild" not only promise engaging gameplay but also a chance to escape into worlds crafted with imagination and precision. Each spin is not merely a gamble but a step into a different realm, where fortune favors the bold and every play could be the key to a jackpot.
But the allure of the Jupiter Club extends beyond the spinning reels. The casino ensures that lovers of strategy and skill also find their place at the virtual tables. Video poker and various table games offer a different kind of thrill, where every card dealt, and every hand played is a calculated risk, a dance between chance and strategy.
Moreover, the casino extends an olive branch to newcomers with its dual playing modes. Registered members can dip their toes into the vast ocean of opportunities with the practice mode, exploring the nuances of each game without risk. It's a playground where one can learn the ropes, devise strategies, and become acquainted with the myriad of possibilities before diving into the real money mode.
Jupiter Club, with its vibrant offerings, ensures that every visit is a new adventure, a fresh chance to explore, play, and potentially win. The games, in their digital splendor, offer more than just opportunities for fortune; they provide a ticket to a world where every play is a new story waiting to unfold.
=> Play at Jupiter Club Casino
Mobile Gaming Experience
Ah, the digital age! Where our entire world, including the thrill of casinos, fits snugly into our pockets. Jupiter Club Casino clearly received the memo. They've seamlessly adapted to the mobile revolution, ensuring that gamblers on the go aren't left twiddling their thumbs.
First off, let's talk about compatibility. Whether you're an Apple fan or an Android enthusiast, Jupiter Club doesn't discriminate. Their platform dances smoothly across various devices and operating systems. No more squinting at misaligned graphics or battling with unresponsive buttons. The casino's mobile interface is as sleek and intuitive as its desktop counterpart.
Now, imagine this: You're waiting for your coffee, and you decide to spin a roulette wheel or two. With Jupiter Club's rapid loading times, you can dive into the action in mere seconds. No lengthy buffering, no tedious waiting. Just pure, unadulterated gaming. And by the time your barista calls out your order, you might just have hit the jackpot!
But what truly sets Jupiter Club apart in the mobile gaming realm? It's undiluted access to their entire game library. Some casinos, in a bid to go mobile, trim down their offerings, leaving players with a watered-down version. Not here. Whether you're in the mood for slots, poker, or any other casino classic, the full spectrum is at your fingertips.
Lastly, let's touch on design. A mobile casino can have all the games in the world, but if it's a navigational nightmare, what's the point? Jupiter Club's design team deserves a round of applause. The mobile layout is clean, the graphics are crisp, and the overall user experience is good. Simply top-notch.
To sum it up, Jupiter Club Casino's mobile experience is like that perfectly tailored suit—it just fits. So, the next time you're stuck in a queue or waiting for a friend, remember: Jupiter Club is just a tap away, ready to sprinkle a little excitement into your day.
=> Play at Jupiter Club Casino
Loyalty and VIP Programs
Elevating your gaming journey to celestial heights, Jupiter Club Casino rolls out the red carpet, inviting players to a stellar VIP experience. The cosmos of online gaming is vast, but here, loyalty doesn't just sparkle; it radiates throughout your gameplay, promising a universe where every wager propels you toward astronomical rewards.
Navigating through the cosmic lanes of Jupiter Club's loyalty program, players encounter a universe where every wager is a step towards stellar rewards. The more you play, the more loyalty points gravitate towards your account, unlocking new galaxies of perks and bonuses. But beware, space travelers, for venturing with an active bonus halves your loyalty point accumulation, a small asteroid to navigate in your journey towards VIP status.
Five dazzling levels await in this celestial VIP journey: Jack, Queen, King, Ace, and the illustrious Black Diamond. Each tier is a new planet of privileges, where the rewards amplify as you ascend through the ranks. Higher statuses not only unlock better cashout limits but also unveil a constellation of exclusive bonuses, personalized offers, and celestial services tailored to make your journey through the Jupiter Club universe truly legendary.
Promotional packages, those twinkling stars in the vast iGaming sky, are not merely distant celestial bodies at Jupiter Club. From sign-up offerings sprinkled with complimentary funds to contests that pit space explorers against each other in friendly competition, the casino ensures that the cosmic journey is sprinkled with exciting events and opportunities. Note, however, that these celestial events are reserved for registered REAL clients, ensuring that the rewards are as tangible as the thrilling experiences they accompany.
In the vast expanse of the iGaming universe, where countless stars and casinos twinkle with fleeting promises of rewards, Jupiter Club's loyalty program stands out as a genuine commitment to player appreciation. It's a cosmos where every wager, every spin, and every moment spent in the gaming galaxy is a step towards more exclusive, more personalized, and more rewarding adventures.
So, the loyalty and VIP programs at Jupiter Club Casino offer not just a gaming experience but a cosmic journey. A universe where loyalty is rewarded, where every wager propels you through a galaxy of rewards, and where every player can find their own path through the stars, discovering new worlds of excitement, rewards, and stellar gaming experiences. So, fasten your seatbelts, space explorers, for a journey where your loyalty propels you to new galaxies of gaming delight!
=> Play at Jupiter Club Casino
Trustworthiness and Reputation
Navigating the tumultuous seas of the iGaming industry, Jupiter Club Casino has witnessed its fair share of storms and sunny days alike. A tale of redemption, perhaps, the casino has managed to claw its way back from a somewhat tarnished reputation, presenting itself anew to the discerning eyes of the gambling community.
A stroll down memory lane reveals a time when Jupiter Club, under the umbrella of the Grand Prive Group, found itself embroiled in a maelstrom of controversy and criticism. Accusations of unprofessional business practices, sluggish payments, and less-than-stellar support were not uncommon in various forums and discussions. The echoes of disgruntled players and affiliates alike painted a rather bleak picture of the casino's operations.
Yet, the winds of change have seemingly swept through the virtual halls of Jupiter Club. A notable shift towards improved service quality and a more player-centric approach has been observed, offering a glimmer of hope to those willing to give second chances. The casino, once blocklisted, has managed to extricate itself from the abyss of shame, showcasing a commitment to better practices and enhanced player experiences.
The proverbial phrase "A wolf may change its coat but not its character" often looms over entities that have once found themselves in hot water. However, the belief in redemption and the opportunity for positive change should not be dismissed outright. Jupiter Club, with its newfound dedication to providing a safe and enjoyable gaming environment, certainly warrants a cautious yet optimistic gaze.
Despite the seemingly positive trajectory, the savvy player knows that vigilance is key. A glittering exterior, symbolized by the casino's vibrant interface and enticing offers, should not overshadow the necessity of thorough scrutiny. Ensuring a continuous commitment to fair play, timely payments, and stellar support remains imperative.
In the realm of online gambling, where trust is paramount, Jupiter Club's journey from the shadows into the light serves as a testament to the possibility of change. Whether this trajectory continues to ascend will undoubtedly be watched by players and critics alike, each hoping that the lessons of the past have indeed forged a brighter, more reliable future.
In the end, the dice are cast, and the wheels are in motion. Will Jupiter Club continue to ascend toward the zenith of reliability and player satisfaction? Only time and continued scrutiny will tell.
User Experience and Interface
Ah, the digital playground of Jupiter Club Casino! It's like stepping into a neon-lit arcade from the future. Vibrant hues and dynamic graphics greet you, ensuring you're in for a visual treat. But it's not just about the looks; functionality is the real star here.
Navigating through the casino is a breeze. No more aimless wandering or clicking on endless tabs. Everything is where you'd expect it to be, almost as if the designers read your mind. The games load swiftly, ensuring that pesky loading screens don't halt the adrenaline rush.
And for those who appreciate the finer details, the filters and search functions are a dream. Whether you're a seasoned gamer or just dipping your toes, the interface ensures you're not left fumbling in the dark. It's clear: Jupiter Club Casino knows how to roll out the digital red carpet!
Final Thoughts and Recommendations
Jupiter Club Casino isn't just another star in the vast iGaming galaxy. With its rich game selection, enticing loyalty programs, and a mobile experience that's out of this world, it's clear they're on a mission to dazzle. But remember, every planet has its storms. Always dive into those Terms and Conditions like you're hunting for alien life.
Ready to embark on an interstellar casino adventure? Suit up, space cadet, and may the odds be ever in your orbit! Just remember to play responsibly; we wouldn't want you lost in space.