Temple of Treasure Megaways Free Play By Blueprint Gaming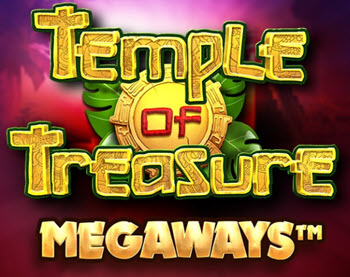 ==>Play on Temple of Treasure Megaways
Temple of Treasure Megaways is available for people who want to try out new slots. It has a Return to Players of 96.46%, so check out our review to know about its no deposit bonuses and many more.
Blueprint Gaming's Temple of Treasures Megaways is an online slot machine with 6 reels and up to 117,649 ways to win on each spin. The free spins feature, where you can earn up to 15 spins with a 10 times multiplier, will be activated if you can land 4 scatter symbols.
With every turn of the reels, players can win one of up to 117 649 different ways on the Temple of Treasures Megaways slot from Blueprint Gaming. The slot machine has amazing earning potential with a top reward impressively worth 50 times your wager, reaction winnings, escalating multipliers, and free spins. So there's never a dull moment when you play this online slot.
Theme
The Temple of Treasures Blueprint Gaming's Megaways slot features a colorful Ancient Aztec theme. The game has a very vibrant overall aesthetic, with eye-catching images of Aztec pyramids, gems, and masks.
Stunning Design
The game takes you to a new time and location and fully immerses you in the subject. This slot machine is pretty well-known in the gaming industry, so if you enjoy titles like Gonzo's Quest, Secrets of the Phoenix, and Microgaming's Lara Croft Temples and Tombs slot, you will enjoy this one.
Ways to Play
The base game has six reels, and there are additional reels along the top of the screen. As a Megaways slot, each of the main reels may show 2 to 7 symbols; the more symbols that land, the more winning ways are active. There are as many as 117649 active winning combinations.
Range for Betting
There is also a broad range of betting options, .20 coins to 100 coins. So, regardless of your financial situation, you can enjoy spinning the reels on this game whether you are a big roller or a casual player.
Dividends and Variance
An RTP of 96.46 percent can be found on Blueprint Gaming's Temple of Treasures Megaways. Concerning a wager of 100 coins, this payout % indicates the average amount of money you can hope to win. Huge winnings are always available on this high volatility slot machine, but they do not occur as frequently as they would on a lower-risk game.
How RTP Operate
When wagering 100 coins, the RTP of an online slot machine may not always be exactly as stated. This is because it is a theoretical number that the developer's mathematicians have calculated over a large number of spins. Thus, even though you might not start with 96.46 coins more than 100 coins, you would gradually accumulate that sum.
Getting Ahead
A winning combination requires landing three or more symbols on neighboring reels that are aligned from left to right. The most generous symbol is the mask, which offers a 50 times prize. By replacing all other symbols, the wild sign also aids in your ability to win.
Cascades
A "reaction" happens after each victory you have. This indicates that all of the winning symbols vanish, and new ones take their place.
In Megaways online slot games, reactions are always a terrific extra feature that you frequently encounter. This kind of feature gives you the chance to land many winning combinations in the course of a single spin, leading to big wins that truly build up over time.
==>Play on Temple of Treasure Megaways
Spins and Bonuses for Free
The free spins round is started when four scatter symbols appear. You have four choices at the bonus's outset:
15 free spins with a minimum of 324 MegaWays
10 free spins with a minimum of 2304 MegaWays
5 bonus spins with a minimum of 10,000 MegaWays
Random MegaWays and a randomized quantity of free spins are available in Mystery Choice.
Using the Mystery Choice carefully is one piece of advice we have. We randomly chose the Mystery Choice during the free spins round, which resulted in a smaller quantity of free spins and mega ways. As a result, this choice is only suggested if you enjoy taking significant risks when playing.
Increasing Multipliers
Every action that takes place during the bonus round will raise your multiplier. In this bonus game, there are endless multipliers available because the meter does not reset between spins. This allows you the opportunity to score some incredible wins from your free spins and creates a generous winning potential.
Top Wins
As we already indicated, the maximum payout from a single combination in this slot machine is 50 times your wager. This jackpot may not appear to be the most generous on the market when compared to games that offer grand prizes of 1000 times your investment but bear with us.
Symbol Pays
Blueprint Gaming's Temple of Treasures Megaways has a ton of different bonus features that let players win huge jackpots. Five mask symbols anywhere on the reels will award a payout of 50 times the bet, but the slot's winning potential is increased by the responses and rising multipliers. You are in for a very profitable online gaming experience even though the top reward on its own may not seem particularly remarkable when combined with all of the other bonus features offered here.
Jackpot Award
All things considered, the Temple of Treasure Megaways' top jackpot is worth a staggering 10,000 times your wager. If you were able to load the reels with masks, you would win this prize. Then, a response would take place for more wins, increasing your payout.
So, do not be duped by the paytable. If you are looking at the rewards presented to you from any online slots, you should always take into account the extra features present in a game while examining the highest payout for specific symbols.
Play a Demo
It is advised that you try out the demo before playing Temple of Treasures Megaways. Here, you can test out Temple of Treasures Megaways for free without risking any real money to decide whether you would like to play this game for real money.
To make sure you have a solid grasp of the entire gameplay, we always advise between 150 and 200 spins.
Final Assessment
Blueprint Gaming's Temple of Treasures Megaways slot machine provides players a fun online gaming environment with a ton of excellent bonuses to choose from. Due to the enormous number of winning combinations available that can be activated in all Megaways games, players have the opportunity to win a variety of stunning rewards.
Things we would change
Our one complaint is that Megaways slots can occasionally be somewhat similar. About free spins and additional features, Bonanza and Extra Chilli are very similar to Temple of Treasures Megaways. It's a fine substitute for these titles, but if you are searching for something a little new, it can feel a little repetitive.
Disclaimer: Blueprint Gaming owns the trademark and license for Temple of Treasures Megaways. Blueprint Gaming does not endorse this website.
Clicking this button will take you to a real money casino website operated by a third-party partner. Despite our best efforts to link games with casinos that provide them, we caution you to check the slot machine content on the casino website before depositing money or registering.
Slot Data
The name of the slot is Temple of Treasures Megaways and the software provider is Blueprint Gaming. The return to player (RTP) is 96.46 percent and the volatility is medium. The slot has 6 reels and 117649 paylines.
The minimum Bet (all lines covered) and maximum bets are £0.20 (GBP) and £100 (GBP) respectively.
The top Win is 50.
The features include Free Spins, Bonus Game, Wild Symbol, Megaways, Scatter Symbol, Multiplier, Medium volatility & 6 Reels.
Themes:
Gold, Aztec, Action & Adventure, Gods, Mystery, Mythology
UK Available in GB?
Yes. With a UKGC license, Blueprint Gaming is permitted to offer its games at casinos with UKGC licenses.
Frequently asked questions (FAQs) for Temple Of Treasures Megaways
Are there any hints or methods for the Temple of Treasure Megaways?
Unfortunately, there is no real way for gamers to ensure that they will win when they engage in any online slot activity. Since RNGs power every slot game, players are unable to influence or forecast the results of each spin. Therefore, all we can suggest is that you manage your bankroll wisely when playing any online slot machine.
When playing Blueprint's Temple of Treasure Megaways slots online, you must establish a spending limit that you stick to. Never go above this spending limit or chase your losses.
Once you have won, we suggest dividing your earnings between your bankroll and your bank account so that you have some profit and some more money in your casino account that will enable you to play longer or place larger bets.
Can I play the Temple of Treasure Megaways slot machine for free?
Here at Slots Temple, you may play the Temple of Treasures Megaways game. Without registering or making a deposit at an online casino, you can try out this game.
Has the Temple of Treasure Megaways slot machine had any free spins?
To start the free spins bonus, you must land four or more scatters. Four rounds with a various minimum numbers of megaways are available for you to select from.
Playing the Temple of Treasure Megaways slots, am I able to win real money?
If you want to play the Temple of Treasures Megaways slot for actual money, register and deposit at an online casino serviced by Blueprint Gaming.
Is it possible to play the Temple of Treasure Megaways slots for free?
Slots Temple offers Temple of Treasures Megaways for no-deposit play.
Can I download the slots from Temple of Treasure Megaways?
Temple of Treasure Megaways is an HTML5 slot that loads instantly in your web browser, so there's no need to download it.