Plentiful Treasure Slot Review. RTG Online Slots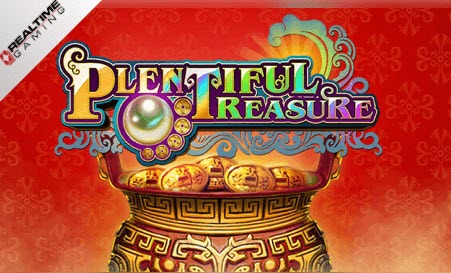 >>Play at Plentiful Treasure Slot
Plentiful Treasure is one of those slot games that does not mind breaking the mold. The makers of this game took the traditional Chinese look and tweaked it a little. The result is a light and airy aesthetic that is pleasing to the eye.
Aside from the aesthetics, this game has a great core mechanic. This is not your typical arrangement. Rather, it features a variety of fun mini-games, including the classic free-spin function!
In some ways, this game is ideal for those looking for the well-known …
… a player's experience that is all too familiar. As a result.
A Classic Theme with a Unique Twist 
Slots inspired by ancient China are a dime a dozen, according to those with some gaming expertise. This may or may not be a good thing, depending on your preferences. Nonetheless, most of us will agree that the aesthetic might become monotonous after a while.
The fact that they have managed to avoid repetition in a fresh approach is what makes this title so fantastic.
You know exactly what you are up against the instant you start the game. For the background, they've employed the signature cherry red texture…
… with a few Chinese ornaments thrown in for good measure.
This is when things diverge from the typical path that similar subjects take. Instead of going all out in the direction of ancient China, the makers of this game threw in a dash of old-school Vegas casino vibe!
The fonts chosen, the gold-plated letters and numerals, and the arching text featured on jackpot labels all reflect this.
In essence, Real Time Gaming avoids the issue of repetitiveness that affects today's Chinese-themed slots.
Flashy Symbols That Worked Perfectly
Symbol design in online slots is a hit-or-miss proposition. It has nothing to do with how bold or showy the design is, but rather whether it is in keeping with the overall theme. That's the difficult part.
Plentiful Treasure has solved this problem in a very straightforward manner. The emblems are showy and blinged up, just like the rest of the motif. Simple!
Even still, they exercised discipline; otherwise, things would become very confused, very quickly.
– Lower-paying symbols are easily distinguishable from higher-paying symbols. They appear in the form of different letters and numbers, just like in many other games.
– Mid-paying symbols include a variety of jewelry, primarily rings and necklaces with teapots thrown in for good measure.
– Golden statues, pots, and rings with a bright background are the highest paying symbols.
As perplexing as all of this may appear, it is simple to figure out what's what once you start spinning the reels.
Moving on, instead of the customary two special symbols, there are three. There's a scatter, a wild, and a multiplier.
The first two behave normally, but the multiplier symbol, which is portrayed by a white pearl…
… only appears on the third reel and can substitute for any symbol except the scatter and wild. The amount of multiplier a pearl can contribute to your stake is determined by the bet itself.
Special Features and Betting Options 
Right off the beginning, we should point out that this game is part of the 243 All Ways Pays genre. There are no pay lines in this game! Instead, you'll win if you have the required symbols on adjacent reels.
There are two unique characteristics that you can make use of. The first is a standard free spin mode that is triggered when three or more scatter symbols appear adjacently on adjacent reels.
The other unique game is far more thrilling…
… yet because this is a low-volatility game, it's also a lot uncommon. Jackpot is the name of the game, and it has four tiers of jackpots:
– Mini Jackpot — Offers the smallest prize, generally about two hundred (200) credits.
– Minor Jackpot – This is the next step up, and it usually pays out up to one thousand (1000) credits.
– Major Prize – This is the second-largest jackpot, with a value of over one thousand (1000) credits.
– Grand Jackpot — The highest jackpot available, with an average payout of roughly nine thousand (9000) credits.
As you play, the worth of each of these gradually increases. It's worth noting that getting a wild symbol increases your chances of winning any of the jackpots!
Select the golden symbols on the left-hand side of the screen to activate the jackpot feature. You'll get access to some or all jackpots depending on how many you choose.
If you choose all of the jackpots, a coin mini-game displays to determine which pot you've won. This is a low-volatility game, as previously stated. The odds of activating the coin mini-game and thus the jackpot feature are slim, but that adds to the game's appeal.
Our Opinion: 
For a game that initially appears to be mediocre, there is a lot of substance in this title. The mini-games are fun, and the addition of another special sign adds to the mix. It all looks tight!
It may take some time before you hit the jackpot, but the time will fly by!