Mermaid Royale Slot – Online (RTG) Slots No Deposit Bonus (45 Free Spins) Here!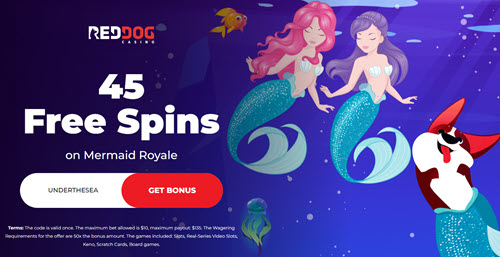 => Play on Mermaid Royale Slot
Mermaid Royale slot is a pretty unique slot by RealTime Gaming because they rarely create games with the sea theme. There are several features that players will love in this casino. So, continue reading to learn more.
It's not every day that RealTime Gaming spoils its gamers with a game centered on the sea, so the introduction of Mermaid Royale by Slots Games felt like a true treat. The attractive fish-tailed ladies will assist you in your search for the valuables of the underworld, as the name implies.
Design & Graphics
We really can not help but notice how similar the game's characters are to Divas of Darkness from some other recent RTG launch, but the developers deserve credit for sketching them from scratch rather than performing a cheap re-skin. Altogether, the headline is eye-catching, and the embellishments are fitting for the theme.
The Basic Gameplay
Wilds on slot machines are very tame – they don't do much other than substitute and can occasionally extend to cover the entire board. The Scatter rules, on the other hand, have been completely rewritten; the most profitable extras are activated by accumulating Regular, Special, and Treasure Chest scatters.
In-Game extras
It is the distance one can travel if they have sufficient scatters of a specific sort on the board:
Regular Scatter: Provides +3 Free Games but must be followed by two other Scatters to activate the mode.
Special Scatter: Appear only on the Bonus Row and awards +4 Free Games. The Exceptional stack is on top of the Regulars, so if you get one of the earlier and two of the latter, the Free Game mode will be activated.
Treasure Scatter: Appear only in the Bonus Row. Three of them are required to receive three re-spins with the Gigantic bonus icons.
Random Booster: Only appears when the Free Game mode is engaged. Activated by three Wild symbols on reel 5, a dynamic x2 multiplier, or the Oversized characters.
Commonly asked questions
What is the bare minimum deposit required to play Mermaid Royale for actual cash?
You have an advantage here with a Neosurf coupon because all it requires is $10. If you invest with cryptocurrency, you must invest twice as much as if you used a credit card.
Is it possible to play Mermaid Royale's internet slot for free on this site?
Without a doubt. Because we believe in prudent and cautious gaming, we have made our full collection available for free play.
Is there any technical difficulty in playing Mermaid Royale slots on older mobile devices?
Not – as much as RTG continues to use the leftovers of Flash technologies, their games can be tailored for even the most antiquated mobile devices. As long as you upgrade your browser, you should have no issues with the game.
In conclusion
We have every reason to end this Mermaid Royale slot assessment on a happy note: it's a game that makes the most of legacy mechanics while being interesting even for seasoned players.
=> Play on Mermaid Royale Slot