Ninja Star slot Review (RTG Slots)
Ninja Star slot is an RTG powered game with a Ninja theme. This slot game features five reels, twenty-five win lines, multipliers, eilds, scatters, progressive jackpots and an autoplay option.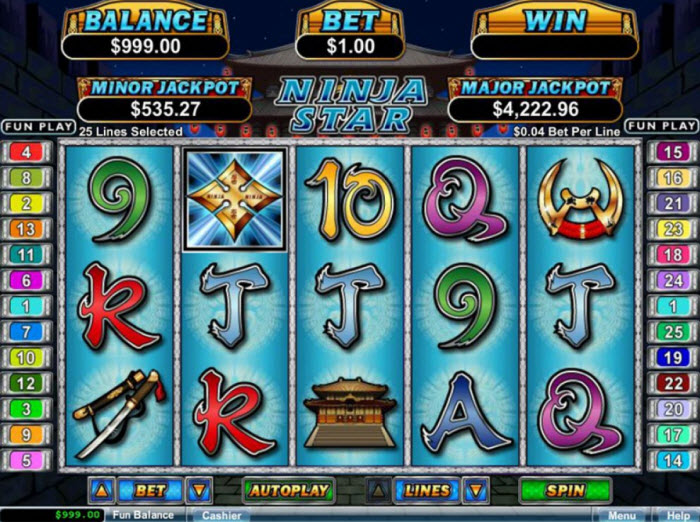 About the Game
Ninja Star slots is an RTG powered slot built around historical facts, this slot game takes players back to the memory lane of Ninija existence, where an assassin is hired for the sole purpose of eliminating people with all sorts of hazardous equipment with no trail leading back to any party involved.
This kind of job is a highly paid job and this is also seen in this Real Time Gaming slot titled Ninja Star slot. If you have ever aspired of becoming a Japanese assasin then you should know that this slot game is made for you to realize that fantasy of yours.
A special Chance
This slot game comprises of two jackpot option that offer loads of bonuses to ensure you have your pocket full of cash. Irrespective of the kind of player you are, this slot gives room for every gambler to accumulate wealth and enjoy interesting gameplay. This slot game bet ranges from 0.25 to 6.25.
Unseen Wealth
As a player, you will always be amazed when you see all the efforts put together to ensure this game offers an interesting gambling experience. The design of the game is superb as it is comprised of mirrors rings and several dark colors, which makes it more comfortable for the Ninjas to carry out their operations.
The reels and the background of the game was designed with 3D graphics; this is enough to draw the attention of players to the slot, the appearance is just fascinating. The reels little light blue shade while the backdrop of the game is an historical Japanese home that reflects the dark color at night.
There are many characters on the reels, such as the unique crafted icons that are second to none. Most of the characters are Japanese items that are drawn with brush strokes by professional craftsmen. Also, in the game are ceremonial items that depict the rituals carried out by Japanese during the ages of Feudal. In addition, there is the presence of Katana, which happens to be a legendary weapon that is known globally for its high quality.
Gameplay
This game has a lot of prizes on offer for players ranging from small prizes to big prizes. Part of the prizes is the free spins and the significant two icons. The first of these significant icons is the fearful Ninja and elite; this icon act as a replacement icon by substituting every other less paying icons in the game with more paying icons. However, this elite Ninja cannot defeat the second major icon of the game, which is the Ninja Star.
The Ninja Star icons act as a multiplier and a scatter icon whenever they appear on the reels; they tend to multiply all your initial winnings. The Ninja Star icons can help you achieve all the big prizes and bonuses in the game. Also, the Ninja Star icons have two progressive jackpots, namely Minor and Major; these jackpots can go a long way in adding to your prizes.
Similar Slots
It is a known fact that players often get tired of playing a game over and over again. Hence, they tend to look for another game to catch fun with and this is why we have come up with some slots that have a similar structure as this Ninja Star slot game, although Ninja Star slot promises huge prizes it is not the only available high paying slot with the same game structure.
The first slot game we have reviewed to have a similar experience as Ninja Star slot is Fluffy Favorites by GlobalCom and Fae Legend Warrior by Eyecon. Although the name of these two games might not sound interesting the gaming experience they offer has nothing to do with their names, the two slots are full of entertainment and innovations.
Verdict
This RTG slot game is one of the best games in the title of this developer that offers interesting gameplay. For whatever reason you might have choose to like this slot game, it is better you stick to it and start playing the game as there are a lot of prizes for you to go home with.