Online Slots Real Money Free Spins
Online slots have become a popular form of entertainment for both experienced and novice gamblers. With the chance to win real money and free spins, online slot games offer a thrilling experience from the comfort of your own home. Learn more about the world of online slots and how to get started playing today.
Online slot games are highly popular not only with experienced players but with novice gamblers as well. Most online casinos provide a comprehensive selection of slots to ensure their members have plenty of variety.
When the first slot game was developed, it featured three reels decorated with bananas, cherries, and a few other types of fruits. Players needed to put in their money and pull on an arm to get the reels to spin. As a result, slot machines quickly received the name "one-armed bandit."
Today's games have five reels filled with all kinds of symbols. Typically, a game has twenty-five or fifty paylines, giving players lots of opportunities to win. Many of today's slots offer the chance to enter bonus rounds, win free games, or tap into a huge jackpot of cash.
At first glance, you may think that slots is merely a game of chance, and there isn't much you can do to improve your odds of winning. However, this isn't entirely true. The following guide gives you the tips you need to choose an online casino, select a slot title, and play like a professional.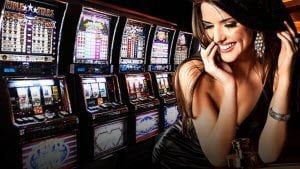 How to Select Your Slot Casino
One of the easiest ways to increase your odds of winning is to select an online casino offering high RTPs for players. The RTP is the return to player or the payout percentage of a game. You'll want to pick a slot game offering an RTP of 97% or more for the best chances of winning during your gaming time. An RTP of 97% means that the casino pays out $97 for every $100 that is wagered on the slot game with an RTP of 97%. Technically, this percentage is spread out over a predetermined period of time and across numerous players, so not everyone is going to see a return of 97% of their money. Even so, your odds of winning are better on a slot game offering a 97% RTP than one giving 94%.
When you select an online casino, you should look for one that offers:
User-friendly navigation
SSL encryption
High jackpots
High RTPs
Excellent title variety in games
Reputation for fast payouts (Online casinos with slow payouts are hoping that you keep playing while waiting for your winnings to deposit.)
---

How to Play Slots
One of the easiest online casino games to play, the slot game requires only three steps:
Deposit your funds
Select the number of paylines you want to play
Spin the reels
If you connect the symbols according to the pre-established payout schedule, you win. The money is immediately deposited into your deposit account.
How to Play Slot Games Like a Professional
Professional players understand the importance of following a strategy when playing slots, and you can improve your odds of winning if you do the same. Here are several tips that everyone should follow when playing slot games.
Read the Rules: Players should always read the rules attached to the slot game you intend to play. Some slot games require the maximum bet in order to win the jackpot or special bonus rounds, and you can find this information in the rules.
Practice with Free Play: If the game you intend to play offers a free version that you can try without the need to deposit any funds, you should try it out to learn more about the game. You won't need to risk any of your money, and you will get a better idea of what to expect during game play.
Bet all Paylines: You should always play all of the paylines to optimize your chances of winning. If your budget is limited, keeping your bet to the minimum amount rather than playing fewer paylines is the recommended strategy. While you may spend less per spin or be able to place a larger bet if you only play a few paylines, you will also miss out on bonus rounds or jackpots.
Select Special Features: Many of today's online slot games offer special features that can enhance your game play. Learn what they are and use them to your advantage. Auto playing your bet is one of these features, and it speeds up the time in between placing your bets.
Understand the Pay Table: Each slot game pays out according to a specific arrangement or schedule. Knowing which symbols offer the best payouts make the game more entertaining as you watch them fall in line on your screen. Scatter and wild symbols are usually identified in the pay schedule, giving you insight into winning bonus rounds. Make sure that you read the rules regarding wild and scatter symbols, because players usually need to bet the maximum number of paylines or maximum bet in order to access these benefits.
Vary Your Game Selection: It is important to switch between slots and progressive jackpots if you want to keep your odds of winning high. Progressive jackpots typically have lower RTPs, meaning you won't win as frequently as you would on a basic slot game. Of course, if you hit the jackpot, you'll have more money than you can imagine.
Understanding Basic Slot Rules for Special Elements
While the games vary, the features within them follow basic rules:
Wild Symbols: Any symbol designated as a wild symbol can act as a substitue for another card, helping players win on paylines. Typically, this symbol is restricting from filling in for certain other high-value symbols.
Jackpots: A jackpot win is always random. While some slot games offer multiple jackpots, a player can only win one at a time.
Bonus Rounds: Some slot games offer bonus rounds that appear randomly.
They are free, and they provide real money if you win. Online slot games are extremely popular, partly because they are as easy to play as they are enjoyable. Before you get in on the action, take the time to learn as much as you can about the game you intend to play and follow a few simple rules that allow you to maximize your chances of winning big.