Orc vs Elf Online Slots for Real Money (Rtg)
Orc versus Elf slot is a 5×3 reels and 25 win lines slot that runs with Real Time Gaming software. This slot game promises an entertaining g!meplay with its wild, scatters, multipliers and free spins feature.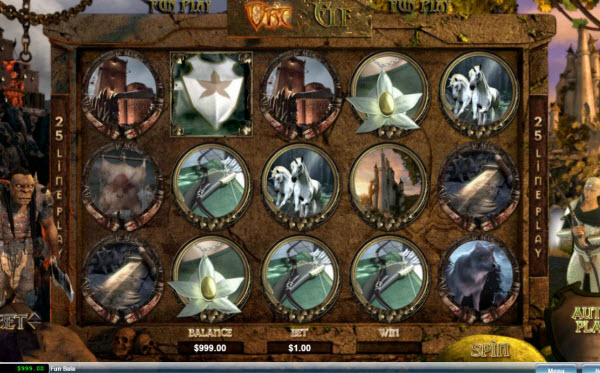 About the Game
This is an RTG powered slot built around two champions namely Orc and Elf. RTG gives players the opportunity to determine who their winner will be in this Orc vs Elf slot. All you need to do is to choose the side which you think can triumph and start receiving your prizes but you need to ensure you outsmart your opponent in the Battle Bonus round or begin the Trail option that direct Elves to Elverons and Orcs to Orcholme.
Gameplay
This RTG slot comprises of 25 win lines and fives reels with Elverons at a side and Orcholme at the other side. The lowest amount of coin that you can wager on this game is 0.25 coins per spin. Locating different characters of Elf and Orc can win you several awards. The crossbows or swords will award you about 125 coins, the skull will award you about 200 coins, the unicorns and wolves will award you about 500 coins while the main character of the game being the Elveros and Orcholme will award you about 1,000 coins.
When Elf shields and Orc shields ranging from 3 to 5 appears on the second, third and fourth reels, they will activate the Battle Bonus. Obtaining three of the shields activates the Bonus, obtaining four activates the bonus option and a multiplier of 5x your total bet while obtaining five of the shields activates the bonus option and a multiplier of 20x your total bet. After this, a battle will commence between the champions and the defending champion will be given access to the Trail feature while the loser will be given a consolation prize that ranges between x2 to x10 of the total bet. Also, the winner will be given a one Victory point and getting three Victory points gives a better option.
Whenever three Elf or Orc shields shows at any point on the reels, the Trail feature will activate. This is when the Orc players will begin the Trail feature to Orchlome while the Elf players will begin the Trail feature to Elveros and seven features will be triggered by these two features. You might decide to select a feature or decide to give the next one a try. The features that are seen on the Elveros road join together progressively to offer additional wilds, free spins, super sound and multipliers while the Orchlome trail also join together to offer additional wilds, super spins, big spins, several free spins, 2x prizes and sticky wilds.
Verdict
Orc vs Elf slot is an RTG slot title that has some features seen in the Lord of the Rings embedded in it. It offers good prizes and amazing features. This slot has an interesting gameplay and beautiful graphics design so be assured of an unforgettable gambling adventure.