Ape King Slot Review (New RTG Slots)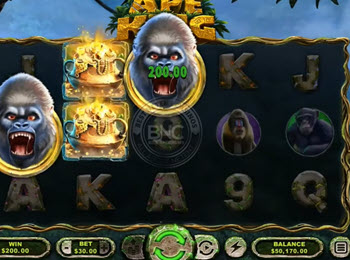 It's hard to categorically state whether the Ape or the Lion is the king of the Jungle, but Realtime Gaming has ensured that this is very explanatory.
This slot is monkey-themed, and it makes use of animals that are of big variants. This game is of high volatility, but the payout given to the players is quite reasonable.
Provision has been made for 243 ways to make big wins on this 5 x 3 reel slot. Players are certain to get big rewards when they game right, and the reward is up to 1666x of the amount staked. The features that can help them include the wild, scatter, jungle bonuses and the free spins.
There are up to 30 coins in the minimum bet, and all of total value can range from $0.30 to $150. A line bet can be up to $5 and this is very interesting for the players with high budget.
The highest payout that the players can get is 1,666x of the amount that you have invested, and we clearly understood why with the minimum possible bet.
Slot Features
The wild and the scatter symbol are the very essential features that you can make use of while playing the game. The wild symbol can only be seen on the 2nd, 3rd and 4th reel, and you can use it as a replacement for some other symbols
The pot of Gold has a wild ability, and it can serve as a replacement for some other symbols to form winning combinations.
If the pot of Gold makes its appearance about 4 times, then the free spin feature will be triggered.
When you start the free spin, you will see monkey on the reels, with various specified amount on it.
When the Ape makes its appearance once, this is going to involve all of the monkeys that you will get to see on the reels. As you remove the group of symbols from the reels starting from the left hand side, you will be getting some rewards paid out.
Design & Theme
It has been earlier mentioned that this slot is a money-themed slot, and it's going to take players to the jungle and get to see species of monkeys. The monkeys to be seen include Orangutans, Chimpanzees, Gorilla and some other ones.
Conclusion
This slot is not a very unique one, but it has rewardingly convince with the free spins and the wild features.
RTG Casinos