Santastic Slot Review Online (RTG) Slots Real Money
Players that enjoy the concept behind Santa will so much appreciate this Santastic slot by RTG realtime gaming. There are lots of festive cheer on this slot, and also there are great gifts to be enjoyed by the players.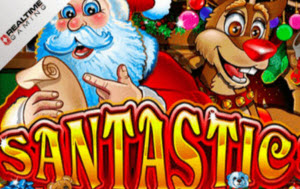 Different prizes can be won on this slot as the Christmas theme is amazing with the inclusion of Christmas puddings, the North Pole, snowmen, Rudolph and Santa and they can get your prizes doubled up. There are lots of things to be enjoyed on this slot, Jackpot spins and win alongside.
The spin stakes is actually friendly to the user as it ranges from 0.25 to 1.25 coins.
Helping Santa
The main thing that you are meant to do on this slot is to help Santa in delivering his goods. When you spin the specialty reels, the simple paylines are up to 5. Of course you can watch it snow as you can make use of the 3×3 reel grid as you get up to 5 paylines.
Festive Fortunes
It will be advisable for you to start building your fortune right away by spinning the matching symbols with candy canes that are up to three and teddies that are worth up to 5 coins, the puddings and the stockings are worth up to 7 coins a, 10 coins for the snowmen, 20 coins for the Northpole, 30 coins for the elves, 50 coins for Rudolph and 100 coins for Santa. Provision has been made for a double wild that will ensure your prizes are being doubled up.
When you spin the 3 jackpot symbols, there is every possibility that you can win the jackpot straight away. Having said this, it will be advisable for you to spin the jackpot symbol at the center of the reel. There is a Bonus meter that will get you awarded with the Jackpot spins in which there are lots of festivities that you can enjoy.
Santa Spins
The gifts that you can get from Santa are always in small packages, the active paylines are up to five and the stake you can make ranges from 0.05 to 0.25.
Christmas Cracker
Making the combination of the Santa and Fantastic sounds really like a cheesy Christmas joke. After you might have enjoyed the goodies and the gameplay on this slot you will definitely understand what it means. Just take your time and explore.