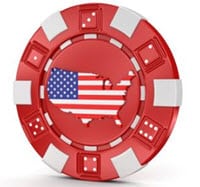 Unfortunately, no matter how good you think the online US casino is that you've chosen, you are probably going to experience a hiccup when you first attempt to make a deposit as a direct result of the Unlawful Internet Gambling and Enforcement Act from 2006. This law, which is commonly referred to as  UIGEA, restricts players from depositing American funds through American Express, MasterCard, and Visa into online casinos. Financial institutions and banks have to pay attention to the rules set out in the UIGEA, which limits payers in depositing funds. Even so, you can sometimes make these deposits using those credit cards, depending on the casino involved.
If you do experience a hiccup with this process, casino staff can assist you by identifying alternative methods of depositing and withdrawing funds. In fact, American players have several options they can use, including prepaid gift cards, Moneygram, UnionPay debit cards, and Western Union. While each of these methods offers viable solutions to depositing issues, they simply aren't as convenient as you might like. Nonetheless, they offer secure methods of transferring funds so you can enjoy online gambling at your favorite U.S. casino.
Alternatively, gamblers can embrace the benefits and ease of using cryptocurrency to transfer money to and from any online US casino whenever they want. Bitcoin offers a safe way to deposit large sums into your casino account without the worry that your deposit will be turned down due to governmental regulations. Plus, most online casinos offer several options for withdrawing your funds, so, typically, there's no problem attached to transferring your winnings using another method.